November 24th, 2014 by davi
By: Allie Brown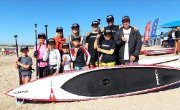 SIC Maui (Sandwich Islands Composites) is excited to announce we are currently in search for two youth athletes to join the SIC family as members of our SIC Junior Development Team with our SIC Grom Search. The selection of these two founding members (one boy and one girl) will focus on the goal of developing their paddling, conditioning and race skills in a structured "team training environment."

"We decided to work with The Paddle Academy (TPA) which already has a reputation of developing strong Junior Athletes over time and places an emphasis on long term athletic development," Braly Joy, SIC Marketing Director said.
"SIC wants to find to young paddlers that meet the criteria and want to push their competitive paddling to the next level." "SIC is looking for the groms that show potential in downwind, flat water and surf."
The criteria to be considered for the SIC Junior Development Team require a strong scholastic performance, good water man or water woman skills and race results. The SIC Grom Search will kick off in November 2014 and the selection process will be overseen by The Paddle Academy.
These new SIC Junior Development Team members will receive support similar to other SIC Team & Ambassadors in the sport of SUP Racing. Initially this will include a race board, paddle and other team athlete perks.
"What's really cool for these two athletes is they will have to opportunity to get a glimpse into their future," Joy said.
At premier events, they will stay at the SIC team house and train with SIC Global Team members like Lina Augaitis, Georges Cronsteadt, Sonni Hönscheid, and Andrea Moller.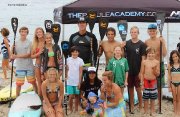 "Our hopes at TPA is that through continued mentoring and coaching of these Juniors and others on our Team, the paddlers will develop into their full potential as athletes," said Jaime Donnelly, co-founder of TPA.
"It is important for these Junior Athletes to become role models for the generations of young paddlers that follow in their footsteps. We truly believe being a part of our Junior Development Program at TPA, these athletes not only become stronger, but more importantly family. TPA is a year round program that provides a place where kids can grow as leaders, gain confidence and challenge themselves mentally and physically to gain a solid foundation to stand on for life."
The two new SIC Jr. Development team riders will be announced in the spring of 2015.
About SIC Maui
SIC Maui (Sandwich Islands Composites) is the vision of master shaper/designer, Mark Raaphorst. Mark has more than 20 years experience building surfboards, windsurfers and outrigger canoes. He is credited as being one of the pioneers of stand up paddleboards and for creating some of the most winning race boards in the world. SIC boards are designed for speed and agility. Their sleek styling, piercing waterlines, quality craftsmanship and attention to detail have also earned SIC the reputation of being the "Ferrari of SUP boards." For more information on SIC, please visit www.sicmaui.com
About The Paddle Academy
TPA was created by Mike Eisert and Jaime Donnelly, both of which have a passion for the ocean and paddle sports, along with a vast and skilled history of coaching, team management and competitive athletic backgrounds. Simply stated, TPA's goal is to pass along the traditions, lifestyle and culture of paddle sports through experienced instruction and passionate mentoring. Based out of Baby Beach in Dana Point, California, TPA's training location has been selected for its safe beach entry yet diverse setting. Dana Point Harbor offers training in Open Ocean and flat water which makes their programs suitable for all ages and skill levels. TPA invites you to be a part of an incredible connection and lifestyle on the water. For more information on TPA, please visit www.thepaddleacademy.com or contact: ThePaddleAcademyINFO@Gmail.com
Related posts