October 12th, 2014 by davi
By: Allie Brown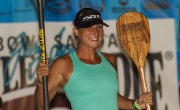 Dana Point, CA – SIC Maui (Sandwich Islands Composites) had an awesome outing from the SIC Global Team rider Lina Augaitis, as she finished 1st overall for the 2014 Battle Of the Paddle at Salt Creek. Racing on SIC production boards, Augaitis earned 2nd place in the elite course on her X 12 PRO and 1st place on her X 14 PRO Lite in the distance race. Augaitis was carried to the stage by her SIC Team members.
"I was focused these last two weeks and really worked on my weaknesses of buoy turns and surfing," said Augaitis. "Saturday I went into the race with an aggressive attitude and instead of letting the waves own me, I wanted to own them. I pulled a podium performance surprising myself and everyone else and proving that hard work and having the right focus can lead to success."
"Lina put down a blistering pace to catch up with the leaders in the first lap," said Braly Joy, SIC Marketing Director. "As they came around the final buoy, Lina was just seconds behind the leader Annabel Anderson. With a big set rolling through, Annabel caught the first wave and was not able to make the drop. This left the door wide open for Lina as she took full advantage, catching the next wave and riding all the way to the finish line."
"Lina was second to last at one point," said Christopher Parker of SUPRacer.com. "However she fought back through the field and gave herself a chance at the death …and when Annabel got cleaned up by that clean up set, Lina made the most of the opening and pounced, surfing a wave in with uncharacteristically good style to claim a very ecstatic and deserving win."
Augaitis started off the season with a few minor wins and a podium in the distance race at BOP 2013. With the continuous support from the SIC family, Augaitis has added some major wins to her resume, winning two world series races. Augauitis won the ISA World Championships distance course in Nicaragua. She won the long distance race and the title of the Fastest Female Paddler on Earth at Lost Mills (Auguaitis's first SUP race in Europe). Augaitis is the current World Series leader going into the finals at Turtle Bay this weekend.
"On Sunday I had a horrible start, but instead of giving up I put my head down and paddled as hard as I could," said Augaitis. "My SIC Pro Lite was gliding under my feet around the course and I felt very in sync with my board and paddle. I would see a pack out front and decide to catch them and when I did, I found the next one. Until I found myself in the back of the pack where Annabel was paddling. Coming into the beach I thought I was in 2nd place until the sea of people on the beach were all yelling, 'RUN! RUN! RUN!' I just could not believe that I had done it."
"A BOP champion, I can't believe this dream has truly become a reality. I have to thank SIC and all of my sponsors, and the community of SUP for all of their support from around the world, I truly could not have done it without peoples kindness and open arms. Live, love, laugh… DREAM!"
About SIC Maui
SIC Maui (Sandwich Islands Composites) is the vision of master shaper/designer, Mark Raaphorst. Mark has more than 20 years experience building surfboards, windsurfers and outrigger canoes. He is credited as being one of the pioneers of stand up paddleboards and for creating some of the most winning race boards in the world. SIC boards are designed for speed and agility. Their sleek styling, piercing waterlines, quality craftsmanship and attention to detail have also earned SIC the reputation of being the "Ferrari of SUP boards." For more information on SIC, please visit www.sicmaui.com
About Battle of the Paddle
The Rainbow Sandals Gerry Lopez's Battle of the Paddle is the perfect way to immerse yourself in the rich tradition of Southern California's original surf lifestyle, and the dynamic paddle sport known as Stand Up Paddleboarding. Rainbow Sandals Foundation is a California nonprofit public benefit corporation that is organized and operated exclusively for charitable and educational purposes. The Foundation supports middle school and high school educational and athletic programs, contribute to organizations that provide after school enrichment activities such as the Boys & Girls Club of America and Ocean Institute, provide instruction in the sport of stand up paddle boarding and raises funds for such charitable and educational activities by hosting the Battle of the Paddle event. For more information on Battle of the Paddle, please visit www.battleofthepaddle.com
Related posts