September 28th, 2014 by davi
By: Allie Brown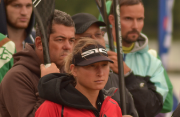 I came down to southern California 2.5 weeks before BOP and likely will stay and head to Turtle Bay the week after BOP. I am a Pro athlete which means I do have a lot of fun on the job but also spend a lot of time alone, figuring out logistics, and managing my budget.
I had a couple of races to do in a similar area down in California which meant spending some time down here. The Paddle Academy run by Mike Eisert and Jaime Donnelly, opened up their hearts and time for me and sent out an email to see if anyone could host me. I always prefer to stay with people than alone in a hotel. Already, my memories are built on the time spent with these wonderful families and friends and less about winning or not winning a competition.
I live for these moments of meeting new people, learning about new places, and being able to connect with each other. I cherish the moments with these amazing families that have opened their doors with no barriers.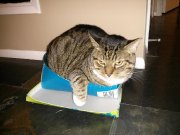 Howson Family Cat
I spent my first week in California with the Howson family. They live on top of the world in Laguna Beach. Where trails are at their door steps and they are surrounded by the loveliest neighbours and views of mountains. They own Harbour Surfboard SHOP in Seal Beach, have two amazing daughters and the quirkiest, best cat I have ever met.
They treated me like one of their own and we shared many magical moments together whether it was celebrations after a good race or feelings of defeat after a poor performance, morning bike rides, sunset walks, unbelievable dinners, parties, and day to day life. They really took care of me, helping me get to the races on the weekends, making sure I was settled, happy, and fed. I enjoyed learning about them and shared stories about myself. I am beyond grateful for their generosity and am so glad our paths have crossed in life. Oh and watch out for Jade, she is already destroying it out there and is just going to keep getting stronger, I am stoked to watch:)
I am now living with the Russell family in Laguna Niguel closer to Salt Creek beach. Here, I have already enjoyed a bike ride to the beach to check out the race site, some delicious foods, some really great conversations, and pure genuine hospitality. I will be here for several days before I head to the SIC house a week out from Battle of the Paddle. They have also gone out of their way to make sure I was comfortable and taken care of. Daniel paddles with the academy and has already completed some pretty amazing races including the Napali race in Kauai, HI. I look forward to spending the rest of the week with them.
THANK YOU Paddle Academy, Howson family, Russell family, and folks in the area. The SUP community continues to astound me with its open arms, and positive love. This is what life is really about: community!
Live, love, laugh,..DREAM!
Lina
Related posts