September 28th, 2014 by robert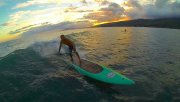 Surfing on raceboards is a lot of fun and a great skill to practice if you want to get faster on downwind runs, it's all about surfing the bumps. Surfing these big long boards also allows you to catch and surf waves that others can't, which opens up all kinds of uncrowded spots and smaller waves that are barely breaking that you can catch from way outside, surf and ENJOY.
These two videos are from our weekly SUP training group, in the first one we go over some tips on how to surf waves on longer raceboards (sorry, the sound is not the best as the microphone was picking up the wind noise). The second video has action on the water with a voiceover going over some of the tips. We hope you enjoy the footage. If you like our videos, please subscribe to the Blue Planet Surf YouTube Channel!

Part 1: On land coaching:

Part 2: On the Water- Surfing SUP race boards: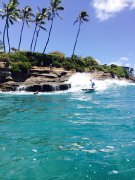 Related posts