April 20th, 2015 by davi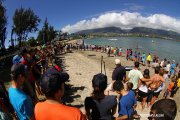 All photos courtesy of Erik Aeder.
For the past few years, we've been taking part in an incredible few events with the Paddle Imua Ohana over on the island of Maui. Ike Imua is a family friendly event that aims to invite children with special needs and disabilities to enjoy a day of paddling in the ocean. Ike Imua is a pre-event for Paddle Imua and a fundraiser event for Camp Imua.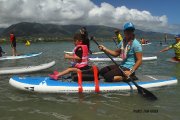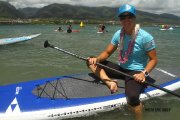 The event was amazing and the day was beautiful. SIC Athlete Andrea Moller has been doing this event for the past few years and is one of her favorite events to be a part of. "Ike Imua is a very special event to me. It all started four years ago when Paddle Imua planted a seed in my heart," stated Andrea. "When I crossed the finish line that year, I was not aware of my mission. However, the moment Jewell picked up my trophy – I would like to rephrase that to "her trophy" — the spark of the event shined thru me. It inspired me to want to do more. I wanted to make a difference. Ike Imua was a way I found to gather paddlers and special needs children to stand up paddle and have a fun day in the ocean. I am speechless on how much support I've had from Maui's paddling community to make this day possible. Mahalo Nui Loa."
Also attending the event was master-shaper Mark Raaphorst who joined in on the fun and took the kids out on our Air Glide Inflatables that we brought down to the beach.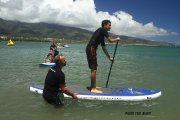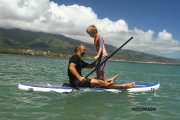 This was a great year at Ike Imua once again, and we can't wait for Paddle Imua next month!
Paddle Imua will be held from the Maliko Gulch to Hawaiian Canoe Club (Kahului Harbor) on Saturday, May 9, 2015 @ 10am (Pre-registration opens April 2015 @ www.paddleimua.com. Proceeds of Paddle Imua continue to benefit Imua Family Services' Camp Imua, a 37-year-old tradition that takes place in June at Camp Maluhia in the West Maui Mountains. For one week, over 50 special-needs campers and more than 250 volunteers come together for a week of crafts, games, swimming, horseback riding, helicopter rides, camp fire, and community. Camp Imua 2015 is scheduled for June 15-19, 2015.
Aloha!
Related posts