February 17th, 2011 by davi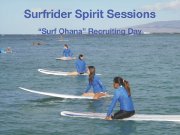 Aloha Surf Mentors and Supporters!
A big Mahalo to all of those who have helped us recruit our 2011 batch of mentors! We are still looking for mentors for all sessions! Spring is almost full, but Summer and Fall sessions still have quite a ways to go! We will be having a "Surf Ohana" day down in Waikiki Saturday February 26th. We would like to invite all mentors, past and present to come down and share some stories and some surf. Mentees who have attended a Spirit Session Program are also welcome, so if you have your kids number, call them and invite them down! Attached is a flyer with all of the details! Hope you can join us!
Aloha
Scott Naguwa
Program & Development Coordinator
Surfrider Spirit Sessions
c: 808.721.5966
c: 808.284.2255
www.surferspirit.org
po box 1677, Kailua, Hi 96734
Click here to download the Mentor Surf Day flyer
Related posts