February 18th, 2011 by davi
FOR IMMEDIATE RELEASE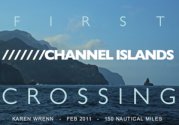 Karen Wrenn Paddles into History with 150 Mile Channel Islands Crossing
Kaenon Polarized stand up paddler braves winds, waves and wildlife for record

Newport Beach, CA — February 17, 2011 — Kaenon Polarized™, the Southern California-based Luxury Performance™ sunglass brand proudly announces that stand up paddle team member Karen Wrenn successfully completed her record-setting Channel Islands (CA) crossing. The six day event consisted of paddling approximately 150 miles between all eight islands off the coast of Southern California.
Wrenn, a 39-year-old mother of three from Portland, Ore., fought strong winds, waves and physical exhaustion, becoming the first person in history to travel between all islands consecutively by any man-powered craft. More than a physical accomplishment, Wrenn had to overcome mental barriers in order to complete the challenge.
"When I was paddling the long distances for hours all by myself, it became very mental," Wrenn said. "I had to start off each day knowing I would make it and that no matter the conditions, I could do it. I simply had no other choice."
Racing against impending weather, the 5-man crew tackled the southern-most islands of Catalina, San Clemente, Santa Barbara and San Nicolas in the first days of the trip. During her crossings, Karen was accompanied by seals, dolphins, whales and even a large shark, (assumed to be a great white by the boat crew) during the final miles between Catalina and San Nicolas islands.
Karen powered through three crossings in the northern-most islands on the fourth day and made her final 43-mile paddle between Anacapa and Santa Barbara islands on the sixth day. Racing against headwinds and approaching darkness, Karen finished the final leg, an 11 hour, 22 minute paddle, as the sun set. "Karen has an incredible strength inside," said John Wrenn, Karen's husband and member of the crew. "It's an amazing thing to experience her determination. On the last day, when we gave her the news she had only three hours of daylight left to finish the 43-mile leg, it became a race against the sun. I watched her take it up another gear after eight hours of paddling."
After six days on the water, Karen solidified her place as the first to accomplish such a crossing among the Channel Islands.
"I am proud of myself and the way everything happened," Wrenn said. "There isn't anything I would change about the experience. Even the last day, having to paddle with headwinds for 11 hours and 22 minutes, I wouldn't change. I like the challenge; it's what makes me who I am."
Karen Wrenn is a champion stand up paddler and has been a Kaenon Polarized athlete for a year and a half, wearing Soft Kore, Leila and Delite. For more information on Karen's adventure visit the blog at Kaenon.com.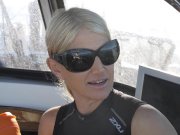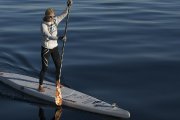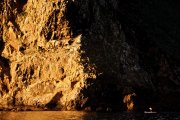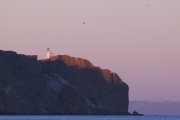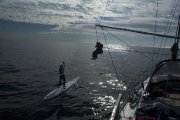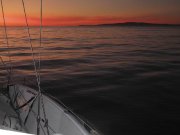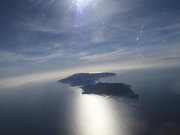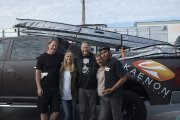 # # #
Since its launch in 2001 with its proprietary and revolutionary SR-91 polarized lenses and award-winning performance sunglasses, Kaenon Polarized has continued its mission to provide elite athletes and active lifestyle enthusiasts with unmatched polarized optics, high-performance frames, all with superior fit and luxurious style—in both prescription and non-prescription sunglasses for men and women. Founded by brothers, Southern California natives and eyewear innovators Steve and Darren Rosenberg, Kaenon Polarized represents the culmination of over 20 years of experience in the sports optics world as sponsored athletes, sports marketers, and executives.
Related posts