April 15th, 2011 by davi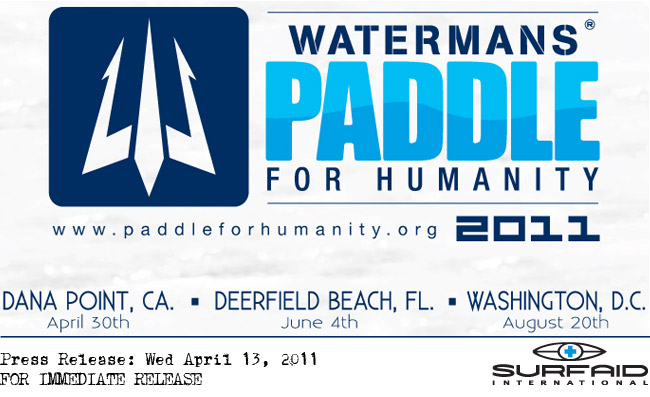 Paddle for Humanity Expands into National Three Race Series
California, Florida and Washington, DC
Paddleboarding and SUP event raises money for SurfAid International

Encinitas, CA – SurfAid International and Watermans Applied Science announced that it has expanded its successful paddleboarding and stand up paddle (SUP) event, Paddle for Humanity, into a three-race national series. The 2011 event series kicks off in Dana Point, CA on Saturday April 30 and then heads to Deerfield Beach, FL on Saturday June 4 and Washington, DC on Saturday August 20.
"We are very grateful to Watermans for their continued support and for their efforts in connecting the paddling community to SurfAid," Executive Director at SurfAid International USA, Randal Schober, said. "Over the past two years, Paddle for Humanity has raised almost $100,000 for us.
"It is a huge honor to watch the paddling and surfing communities come together once again for our cause. It is our hope that through these kinds of events we can give the community a fun and engaging platform to get involved with SurfAid and support a very worthy cause," Schober said.
The Paddle for Humanity features a six-mile elite race and a two-mile fun paddle, follows WPA rules and recognizes divisions in both paddleboarding and stand up paddle (SUP). Awards will go to the top finishers in each division and the top three fundraisers at each venue. Event proceeds will benefit SurfAid International to provide much-needed funding for SurfAid's Tsunami Recovery Program in the Mentawai Islands.
The Paddle for Humanity will sell out, so don't miss your chance to participate, sponsor, donate or volunteer.
Learn more at www.paddleforhumanity.org.
***
About SurfAid International
SurfAid International is a 501(c)3 non-profit organization whose mission is to improve the health, wellbeing and self-reliance of people living in isolated communities connected to us through surfing. In partnership with communities and government, SurfAid works to prevent disease, suffering and death through educational programs that aim to change poor health behaviors and reduce the risk from natural disasters. SurfAid's goal is to empower communities to help themselves and build local capacity so their improved health resilience is sustainable. To learn more about SurfAid go tosurfaidinternational.org or call 760-753-1103.
About Watermans Applied Science
WATERMANS Applied Science is dedicated to providing today's Watermen and women with the best, most effective and functional, high-performance sunscreen on the market. Made and Manufactured in California, USA. Visit www.watermansappliedscience.com to learn more.
Related posts