June 7th, 2011 by davi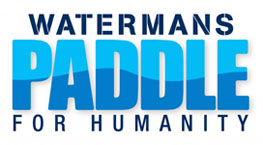 Paddlers Brave Challenging Conditions to Support of SurfAid at
Watermans Paddle for Humanity Deefield Beach.
Deerfield Beach, Florida - Over a hundred spectators and paddlers came out last Saturday for the Watermans Applied Science Paddle for Humanity in Deerfield Beach. The event was the second stop in the 2011 series which kicked off April 30th in Dana Point and will culminate in Washington DC on August 20th. Despite high winds and difficult conditions the event was an overwhelming success.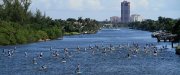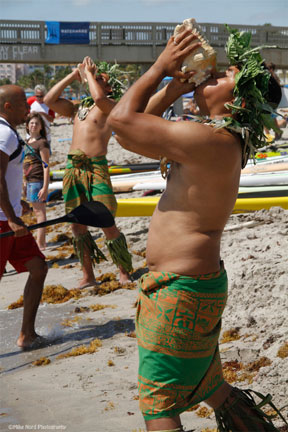 Challenging conditions forced a last minute route change, moving the fun paddle and start of the Elite race to the Inter Coastal Waterway. However, even two to three foot chop, twenty knot winds and a daring dash out the Boca Raton Inlet didn't stop over fifty of Florida's most best paddlers from taking on the Elite course. At the finish it was Gary Wise of Miramar Beach Florida who conquered the conditions and took the overall win with a time of 1:05:56 on his one-man outrigger followed closely by Chase Kosterlitz of St. Pete Beach on his 14′ standup paddleboard. The sounds of Polynesian drums, conch horns and hula dancers at the finish made this truly a unique event.
In the end it is all about the community. This is the first year the Paddle for Humanity has been expanded to include events on both coasts, making it unique in the sport. "[Everyone involved] was blown away by how supportive and committed the paddling community in Florida was to making this event a success," said race director and co-owner of Watermans Applied Science Pete Stirling. "It says a lot about the tremendous growth of paddling as a sport and the community that supports it to be able to hold a series like this on a national level. I think the Paddle for Humanity is a great way to channel all that energy to benefit a great cause like SurfAid." Stirling is enthusiastic about putting on the event again next year.
The Paddle for Humanity features a unique fundraising platform that encourages participants to raise money for SurfAid. "The event has been so successful over the past two years and it is a huge honor to watch the paddling and surfing community come together for a cause," said Randal Schober, Executive Director at SurfAid International. "We are very grateful to Watermans' for their continued support and for their efforts in connecting the paddling community to SurfAid."
Please support our Deerfield Beach sponsors: Kona Brewing Company, Oceans 234, Precision Paddleboards, Ark Paddleboards, Yolo Paddleboards, Sports Authority, Oakley, H20 Audio, The Wyndham Resorts and Polynesian Proud Productions.
RESULTS: Click Here

About SurfAid International
The mission of SurfAid International, a non-profit humanitarian organization, is to improve the health, wellbeing and self-reliance of people living in isolated regions connected to us through surfing. For more information or to make a donation contact the SurfAid staff at 760.931.1199, visit www.surfaidinternational.org or e-mail usa@surfaidinternational.org
About Watermans: Applied Scienc
WATERMANS Applied Science is dedicated to providing today's Watermen and women with the best, most effective and functional, high-performance sunscreen on the market. Made and Manufactured in California, USA. Visit www.watermanssunscreen.com to learn more.
Related posts