June 7th, 2011 by davi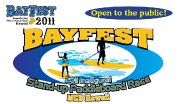 Inaugural Stand-up Paddleboard (SUP) Race
Saturday, July 16 – 10:00 A.M.
Calling all you paddleboard professionals and amateur enthusiasts. Participate in our inaugural Stand-Up Paddleboard race on Saturday, July 16th! We want to see you paddle the majestic blue bay to victory! Race route is a refreshing 4-mile course with 2 miles of flat water and 2 miles of downhill to the finish. Cost is $25 to participate which includes an inaugural t-shirt (limited to the first 200 entries).
Participants must bring their own equipment (Stock 12′6″). If you are interested in participating, click on the online registration link below.
Day-of registration is available from 7:30-9:30 AM with a $30 entry fee.
ALL PARTICIPANTS MUST REGISTER ON THE DAY OF THE EVENT AT 9:30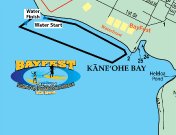 Course Map
See this PDF for full details. For more information call the SUP Race Coordinator at 808-254-7473 OR email here.
Click here for online registration.
Related posts