June 9th, 2011 by davi
This was sent to us by Chase Olivieri from C4 Waterman.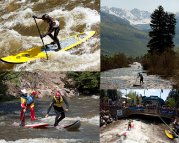 Wow! It's hard to put in words everything that happened at the 2011 Teva Mountain Games. As the cheif social media guru, I had a blast running around the event site to see our team riders race down Gore Creek, friends at CKS run the huge demo pool we had set-up and relay content to our partners at the Vail Valley Foundation.

In case you missed all of our Facebook posts, Tweets, and YouTube videos this past week, here is an abridge summary of all things TMG.
Mariko Strickland (our newest team rider from the island of Kauai) took 1st Place in the Women's SUP Sprint on Saturday and 1st place in the Women's SUP Cross on Sunday. Absolutely incredible…oh and did we mention that this was her first time EVER on an SUP in the river?
Noa Ginella, our 17-year-old team rider from the North Shore who won the inagural SUP Sprint in 2010, claimed 3rd place in the event this year. He also WON the the SUP Cross event this year. Way to go Noa boy!
Charlie MacArthur, the all-around river guide and master the Colorado waters, took 2nd place in the SUP Sprint Cross event on Saturday and 3rd place in the SUP Cross event on Sunday.
We had over 12+ team riders compete, an all-time high for us at the Teva Mountain Games.
This was the biggest year ever for SUP in the mountains and we had over 75+ competitors race in the SUP Cross (that's more than double the volume we had last year).
We also threw a HUGE pool party with our friends at Maui Jim and Korbel California Champagne that attraced hundreds to our area and was "the largest party ever thrown in Gear Town." What more do we need to say other than that it is simple math: a pool + women in bikinis + champagne = a good time.
Check out this post SUP Cross interview with C4 Waterman team riders Noa Ginella and Mariko Strickland hosted by our ambassador-in-chief Liam Wilmott.


(click thumbnail to launch video)
Mahalo to everyone who came out to compete, say hello and join the party. We will see you next year at the Teva Mountain Games if not sooner!
PS- we do cool stuff all year so be sure to like us on Facebook and follow us on Twitter!
-Chase Olivieri
Here's another video from the Teva Mountain Games by Branimir Kvartuc:

(click thumbnail to launch video)
Related posts