August 17th, 2011 by davi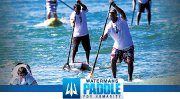 ::FOR IMMEDIATE RELEASE::
Watermans Paddle for Humanity descends on the Nation's Capital
2-mile Fun Paddle and 5-mile Elite Race to be held on the Potomac
Washington D.C. August 17th, 2011 – On August 20th paddlers will take to the warm waters of the Potomac River and participate in the first Annual Washington D.C. Paddle for Humanity. The D.C. event is the third – following events in Dana Point California and Deerfield Beach Florida – in the Watermans Applied Science Paddle for Humanity series, presented by Kona Brewing Co. Overwhelming local support has helped to shape what looks to be one of the most well attended events of the year.
Over the past three years the Watermans Paddle for Humanity has grown from a single grass-roots event to become the only three-stop National level philanthropic event in growing sport of Standup paddleboarding. The event, commonly referred to as the PFH, has raised more than $50,000 USD for charity since its inception in 2009 and helped galvanize paddling communities across the country.
At first holding an event in the nation's capital was more a dream than a reality. "It's been quite a challenge, but this is going to be one great community event!" Said Pete Stirling of Waterman's Applied Sciences, "[the local community] have been instrumental in pointing us the right direction and making this happen. In a lot of ways this is their race. I think once people see what happens this weekend there will be more events in DC. The people are amazing!" The PFH has already laid plans to return in 2012.
The D.C. event will be unique to the series in that it is also open to Outrigger Canoes, Kayaks and other paddle craft. "There is a strong paddling community in D.C. and we wanted to be sure to include all paddlers and to build the community" Said Stirling "Anytime we can all get together to benefit a cause its a good time." Striling added that the iconic Washington Canoe Club provided copious local knowledge to help make the D.C. event a success.
This year's beneficiary is SurfAid International; a non-profit humanitarian organization that has been instrumental in providing basic health care, malaria prevention, clean water and on-going health education programs to the people of the Mentawai Islands. The organization, which is based out of Australia, houses its US headquarters in Encinitas, CA.
The event will start and finish from the Thompson Boat Center with registration at Washington Harbour. After party and awards will be hosted by Tony & Joe's Seafood located in the Washington Harbour commercial center directly adjacent to the finish. Kona Brewing Co. will host a preparty, early checking and registration on Friday night at the Surfside Grill.
For registration or to find out more about the event visit www.paddleforhumanity.org or call Pete Stirling at 949-292-6393.
###
SurfAid International
SurfAid International is a 501(c) 3 non-profit organization whose mission is to improve the health, wellbeing and self-reliance of people living in isolated communities connected to us through surfing. In partnership with communities and government, SurfAid works to prevent disease, suffering and death through educational programs that aim to change poor health behaviors and reduce the risk from natural disasters. SurfAid's goal is to empower communities to help themselves and build local capacity so their improved health resilience is sustainable. To learn more about SurfAid go to www.surfaidinternational.org or call 760-753-1103.
Watermans Applied Science
WATERMANS®: APPLIED SCIENCE stands committed to providing quality sun protection products to those individuals for whom life in the shade is not an option. They offer the best, most effective and functional, high-performance sunscreens on the market, specifically designed for high-intensity water and endurance athletes. Their sunscreen is formulated to stand up to the rigorous demands of an active life in the sun, wind and water. Their goal: to ensure a day in the sun doesn't mean a lifetime of dealing with the consequences. To learn more about Watermans go to www.watermansappliedscience.com or call 949-596-0080.
Related posts