September 27th, 2011 by davi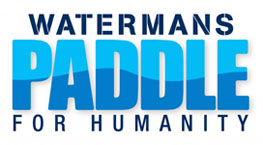 ::FOR IMMEDIATE RELEASE::
Paddle for Humanity recognized for Philanthropic
effort at 1st annual SUP Awards



San Clemente, CA, September 27, 2011 – The Paddle for Humanity (PFH) wrapped up in Washington, D.C., on August 20th after a three event run starting in Dana Point and stopping in Deerfield Beach on the way to the Capital. However, the fun didn't stop on the banks of the Potomac. Last Thursday, SUP magazine recognized the PFH at the 2011 SUP awards, presented by Teva, with the award for top Philanthropic effort of 2011.
The award only further encourages the efforts of organizer, Watermans Applied Science to perpetuate the series. "The Paddle for Humanity is really a community event," said Race Director, Watermans' Pete Stirling. "Every stop we had people coming out of the woodwork to make the PFH happen… this series really belongs to the paddling community and we are behind it 110%." Watermans plans on expanding the 2012 series to four events.
In addition to the Paddle for Humanity, several Watermans Athletes were also recognized. Top Male Paddler, Connor Baxter and Top Female Paddler Jenny Kalmbach were awarded for their contribution to the growing sport of SUP. Kalmbach's efforts on the Destination 3-degrees project were also recognized – the resulting documentary was awarded Movie of the Year.
The 2011 Paddle for Humanity series benefited SurfAid International; a non-profit humanitarian organization that has been instrumental in providing basic health care, malaria prevention, clean water and on-going health education programs to the people of the Mentawai Islands. The organization, which is based out of Australia, houses its US headquarters in Encinitas, CA
The 2011 SUP awards, presented by Teva, are produced by SUP Magazine. For photos and event details visit http://www.supthemag.com/2011-sup-awards/
SurfAid International
SurfAid International is a 501(c) 3 non-profit organization whose mission is to improve the health, wellbeing and self-reliance of people living in isolated communities connected to us through surfing. In partnership with communities and government, SurfAid works to prevent disease, suffering and death through educational programs that aim to change poor health behaviors and reduce the risk from natural disasters. SurfAid's goal is to empower communities to help themselves and build local capacity so their improved health resilience is sustainable. To learn more about SurfAid go to www.surfaidinternational.org or call 760-753-1103.

Watermans Applied Science
WATERMANS®: APPLIED SCIENCE stands committed to providing quality sun protection products to those individuals for whom life in the shade is not an option. They offer the best, most effective and functional, high-performance sunscreens on the market, specifically designed for high-intensity water and endurance athletes. Their sunscreen is formulated to stand up to the rigorous demands of an active life in the sun, wind and water. Their goal: to ensure a day in the sun doesn't mean a lifetime of dealing with the consequences. To learn more about Watermans go to www.watermansappliedscience.com or call 949-596-0080.
Related posts