May 20th, 2011 by davi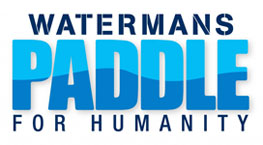 Watermans Applied Science Paddle for Humanity Heads East
2nd event of 2011 PFH series kicks off June 4th
May 19th 2011, Deerfield Beach Fl –- In two weeks the Paddle community will descend on Deerfield Beach Florida for the second event in the 2011 Watermans Applied Science Paddle for Humanity. This will be the first time the series has visited Florida and event organizers hope to ride the wave of support generated by the Dana Point event held on April 30th which brought in just short of $20,000USD in support of SurfAid International.

The Watermans Applied Science Paddle for Humanity is a fundraiser for SurfAid International. The marque event, the 2-mile Paddle for Humanity is a fun paddle open to all types of watercraft. It is not timed and focuses more on participation than competition. "This is a very accessible event for paddlers of all skill levels from the first timer to a seasoned expert." Said Peter Stirling of Watermans Applied Science, "Our goal is to get the community involved with a truly amazing humanitarian organization and give people a fun reason to do it."
The event will also feature a 6-mile Elite Race sanctioned by the World Paddle Association and serve as a qualifier for paddlers pursuing a world championship. The Elite race will be timed and feature award for top finishers, including a spot on the perpetual trophy for the first overall paddleboard and SUP.
Participants in both events are encouraged to go above and beyond their entry fee to contribute to SurfAid's cause. Each paddler will have the option of joining a fundraising team or acting as an individual. "Taking part in this event really means a lot to me," said top Dana Point fundraiser Mark Carlisle who raised $2105.00. He added, "What SurfAid and Watermans are doing is truly something special and worth getting behind." Top fundraising team, Hobie SUP also contributed $3325.
The Watermans Applied Science Paddle for Humanity will showcase new boards and paddling equipment during an onsite beach expo. Each paddler will receive a participation medal and goody bag with sponsor swag.
The Deerfield Fl, Paddle for Humanity happens on June 4th 2011 beginning at 8:00 AM for information logo on to www.paddleforhumanity.org
###
SurfAid International
The mission of SurfAid International, a non-profit humanitarian organization, is to improve the health, wellbeing and self-reliance of people living in isolated regions connected to us through surfing. For more information or to make a donation contact the SurfAid staff at 760.931.1199, visit www.surfaidinternational.org or e-mail usa@surfaidinternational.org
Watermans Applied Science
WATERMANS Applied Science is dedicated to providing today's Watermen and women with the best, most effective and functional, high-performance sunscreen on the market. Made and Manufactured in California, USA. Visit www.watermanssunscreen.com to learn more.
Related posts