May 23rd, 2011 by davi

C4 Team Riders Dominate 2011 Battle of the Paddle Hawaii
Aloha!
C4 Waterman is bursting with pride that we were able to field a team of surfers and paddlers ranging from 9 years in age to 50, male and female, and have them dominate in sprints and distance races on two islands and two races at the same time this past weekend.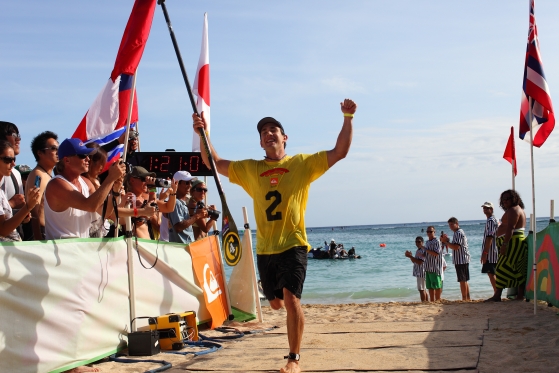 Almost a week has passed since the Rainbow Sandals Battle of the Paddle (BOP) packed up from the shores of Oahu. At around the same time, so too did the OluKai Ho'olaule'a on Maui.
Standing strong on those shores was the team of C4 Waterman Ambassadors. This past weekend had perhaps the best results our team has seen in the last year. While we have always had top-level paddlers, what made it extra special this year was the team's consensus that they were on the most unique and fastest products out there.
Dave Parmenter, who shaped these boards after 14 months of R&D, credits the feedback of the veteran riders Todd Bradley and Greg Pavao and new ambassador, Travis Grant, with really contributing to this year's success.
"Surfboards are shaped by the lone auteur——-but raceboards are built by committee. And our raceboards advance because I have Todd Bradley, Greg Pavao and Travis Grant on board. Every hour spent paddling together is matched by an hour in the shaping room with them. ….And they are brutally honest about what they see on the racks." -Dave Parmenter
C4 had three paddlers finish in the top ten of the BOP elite race. Our custom 16′ (after a tangle with a fishing net) finished 2nd in the BOP distance race. We took 1st and 6th in the 14′0 BOP Hawaii Kai distance race and took 2nd on Maui. Our team also came in 2nd in the team relay race. Youngster Keola won the kids' race by about 50 board-lengths and Ambassador Alika Willis competed in every single event offered at the BOP.
But what we are most proud of is that all of these athletes are first-rate human beings. Traits of a true waterman: humility, ultra-talented and practicing the spirit of the waterman in their daily lives, deeply engrained in our Island culture. All of these ambassadors are people whose actions speak louder than words.
BOP Results:
Keola Auwae: 1st 9 years group race, 80th Open race.
Travis Grant: 1st Elite race, 1st 14′ class Hawaii Kai race and 2nd in the Team Relay.
Georges Cronsteadt: 6th Elite race, 2nd Hawaii Kai race, 2nd Team Relay.
Eric Leou On: 10th Elite race, 7th 12′6 class Hawaii Kai race, 2nd Team Relay.
Noa Ginella: 17th Elite race, 14th Hawaii Kai race.
Noland Keaulana: 33rd Elite race, 6th Hawaii Kai race.
Mariko Strickland: 8th Elite race, 10th Hawaii Kai race, 2nd place Team Relay.
Alika Willis: 73rd Elite, 17th Open, 56th Hawaii Kai race, BeachBoy Relay, Team Relay.
Ho'olaule'a Results:
Mens 40-49:
Greg Pavao: 2nd 14′ division.
Archie Kalepa: 4th 14′ Division
Kalani Vierra: 5th 14′ Division
See more photos and coverage on our Facebook Page and at www.c4waterman.com
Related posts