May 19th, 2011 by davi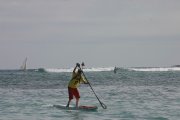 2011 BATTLE OF THE PADDLE once again lives up to its name. First off this was a great event with three different disciplines that I competed in – The Elite, The Long Distance and The Team Relay.

Well I want to start off with the most fun event – The Team Relay. This was by far the best event to end the day and the competition with. With the relay not only does one person have to be fast, but the whole team has to be fast. And I couldn't have picked a better team. Zane Schweitzer, Bart de Zwart, Gillian Gibree and me made up the Starboard team. We had Zane start because I don't think there is a better starter then him, then Bart went second and he is super duper fast in these grueling upwind, side wind conditions, then came the most important part of the team, Gillian, the girl on our team – she is a sprinter and excelled in this race – paddling hard and keeping our team up front. Then I was the anchorman. Each team member had to go twice. So when it came down to me, the last guy to go, we were in second and the C4 team was out in front. Their last person was leaving the beach when our third person was just getting in. So when Gillian tagged me I knew what I had to do and I caught up and passed the C4 team and came into the beach in 1st place. We were super stoked and were really happy to be on the 2011 Starboard 12′6″ surf race.
The next event I am going to talk about makes my body hurt just thinking about it, The Elite Race on Saturday. This is why everyone came to Oahu. This race was held at 3:00pm, which was nice because I got to sleep in. Going into the race all I was thinking of was top three, top three, I am going to be in the top three. The race was a beach start with four laps weaving around buoys, through surf & flat water, which turned out to be about 7+ miles. When I heard the horn blow at the start, well actually I didn't hear it only the people down by the horn heard, I ran once I saw everyone going. When I got to the first buoy I was in the top five. And then moved up into the top three by the next buoy. I pretty much stayed in the top three for the whole race except when I caught up to Danny Ching and Travis Grant and I was by them for a little bit going around the buoys together. But the best and worst part of this race was Slater Trout and me had a battle for the entire race. We were within feet of each other, pushing as hard as we could, never letting off. On the third lap I knew I had to get a little gap on him before the run. So when we rounded the last outside buoy I sprinted as hard as I could and got onto a little wave, which Slater didn't. And by the last lap I turned around and saw Slater's head down and paddling a little slower. When I crossed the line I was in 3rd Place just a few seconds behind Danny and Travis. I was really pleased on my performance and I got $2500, which is always a nice bonus.
Then we got the grueling Long Distance race. For this race I was feeling well prepared, but the only thing that was missing was the WIND. When I got up to Hawaii Kai there was absolutely no wind. I started off good and was in front of Danny for a little bit but then he pulled away for me and then it was a battle with Scott Gamble, until we got to Diamond Head and a wave took him out – which I barely made it over. But then Georges Cronsteadt , who was behind me, caught up. I was on the inside of him and he kept pushing me into the beach, so when we had to go out to round the buoy, I had to stop paddling and go out to round it. But I came in 3rd Place, which put me on the podium.
So it was a super good weekend with great results and good memories.
I want to thank my sponsors for all their support – Starboard, Nike 6.0, Maui Jim Sunglasses, Dakine, EFX Technology, GoPro Cameras, On It Pro, Waterman's Sunscreen, Sunrite Maui, SIC, and Hi-Tech Sports.
Also a big Mahalo to all the event organizers and volunteers!!!
Aloha -
Connor Baxter
===============
Photo's by Karen Baxter
SURF RELAY TEAM ON THE PODIUM – 1st PLACE: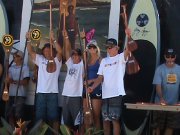 SURF RELAY TEAM DURING THEIR INTERVIEW: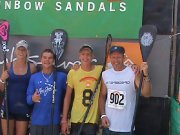 SURF RELAY TEAM BEFORE THE START: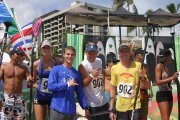 ELITE RACE BATTLE: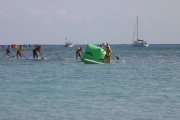 Travis, Danny, Connor, Slater – coming to the buoy:


TOP FOUR FINISHERS AT THEIR BEACH INTERVIEW – Travis, Danny, Connor, Slater: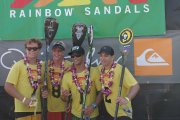 ON THE PODIUM FOR THE ELITE RACE – Connor 3rd Place: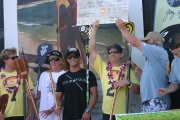 TOP TEN ELITE RACERS: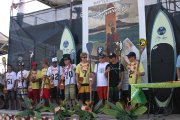 LONG DISTANCE AWARDS – Connor 3rd Place: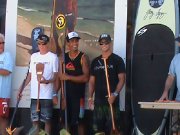 AFTER THE LONG DISTANCE RACE: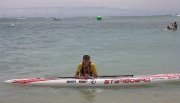 Related posts