January 26th, 2010 by davi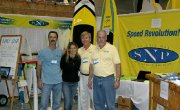 SNP's booth at the 2010 Surf Expo in Orlando was the focal point for some of the most high-tech networking in recent years. Team riders, manufacturers, shop owners, and nano-geeks converged on Booth #508 in big numbers to find the source of the "buzz" for faster boards!

SNP Champion SUP Team Rider Helga Goebel, also a sales representative for Jimmy Lewis boards, joined us in the booth to show how SNP is "installed" on all types of boards and board surfaces, and how it helps her own performance. "It's like butter, and I can feel more glide with each stroke" said Helga. In a preliminary SUP race trial, two minutes were shaved-off the time of a three mile course, traveling almost 800 feet further in the same time.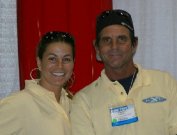 Hawaiian big wave legend Darrick Doerner staked out his spot with SNP by arriving with two fire-engine-red Wiamea guns shaped by Dick Brewer. Just 24 hours before arriving in Florida, Darrick had been paddling into huge Wiamea waves using SNP on his personal big wave board. The week before, he tested SNP at Jaws with the same great results. As SNP's R&D Consultant for board sports, "Double D" gave first-hand reports to Helga Goebel as well as a wide variety of riders, from pro surfers, windsurfers, kiteboarders, skimboarders, and some of the best standup paddlers in the world. In less than a year, SNP has achieved a worldwide reach, just in time for resurgent board sports market to discover the benefits of nanotechnology.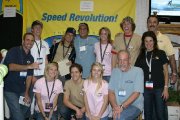 Pat Emery, ESA All-Star Team Coach, and Ana Barend, assistant coach, have the entire team on SNP. According to Pat, "It was almost like relearning how to surf with a volume button; I could not believe that I actually gained speed out of my turns. This product will take competition surfing and free surfing to a new level. This product can be the difference in any final ….. you could be that much faster than your competitor!"
SNP will continue our support of the Eastern Surfing Association (ESA) and the ESA All-Star Team in 2010, holding beach demos at the ESA Scholastic Championships, the three ESA Regional Championships, and the ESA Easterns at Cape Hatteras.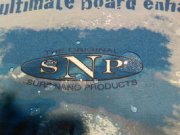 Booth-goers were stunned by SNP's demo simulating the effects of nanotechnology. A cotton t-shirt treated with the nanotechnology was repeatedly dipped in water without absorbing a drop!
As a result of the show, some of the world's largest board manufacturers are now conducting independent testing of SNP on the most high-performance boards. Company founders Andy Giordano and Howard Loveless with SNP's worldwide Sales and Marketing Director Tom Warnke, and technical expert Ken Hansen, described how SNP's nano-particles seal pores at the molecular level so water flows more quickly across a board's surface. "This is what we were hoping for", said Tom. "I'm happy we secured the worldwide rights to water and snow sports with SNP. The product works and the fastest riders in the world want it!"
The "SNP Board Enhancer" is a clear, nanotechnology coating that creates a glass and ceramic molecular-level pore sealant that reduces drag, and increases speed, maneuverability, and board performance. The built-in UV protection adds durability and reduces the yellowing of epoxy and polyester boards. The company's new web site has detailed information about the product, new team riders, and the growing international endorsements. www.surfnanoproducts.com

The product is made from renewable resources and contains zero VOC's. The Cleaner is biodegradable. All kit components, except the applicator sponge, are recyclable. The Enhancer is not wax, silicon, or Teflon based. It is odorless, colorless, non-reactive, hypoallergenic, and will not leach into the environment.
The kit is sold on-line and in select shops. It is available in 2-ounce ($29.95) and 4-ounce ($39.95) kits, and includes everything needed – Cleaner, Enhancer, applicator sponge(s), and microfiber finishing towel. A Bulk Program is available for manufacturers as a final finish step in board production. Depending on use and handling, one application will last four months, however, repeated applications increase performance.
SNP is presently looking for sales representatives and/or distributors to round-out its domestic sales network. As a result of the Surf Expo, SNP has added Sales Representatives in Hawaii, the Mid-Atlantic, and the Pacific Northwest, and is pursuing distribution channels internationally.


Surf Nano Products, LLC
1-866-842-8530
www.surfnanoproducts.com
Related posts