September 29th, 2009 by evan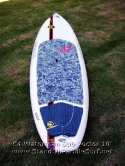 I got to try the new C4 Sub Vector 10′ designed by Dave Parmenter and Brian Keaulana. At the time, this was one of only 3 on the island. Robert Stehlik from Blue Planet Surf let me be the first person to demo the board and I was impressed. In my opinion, for my personal preference, this is the best board from C4 that I have surfed so far.  I actually demoed this board over two separate weekends.  Blue Planet will apply any rental fees to the purchase of a board so there's no loss if you're looking to try before you buy.

Click the image below for a video preview of the new C4 Waterman Sub Vector 10′:


(click thumbnail to launch video)
The first day I tried it was in windy conditions although there were some decent head high sets coming through. I've been used to riding boards with softer rails but after 20 minutes or so I got used to the Sub Vector. I caught a few waves that were ok but nothing was really that smooth.  A couple days later I got in a really good session at Old Man's on a late Sunday afternoon. Todd Bradley was also out on a prototype of some sort. The waves that day were overhead and the wind died down to create a really good, smooth and glassy conditions. That session was my best south shore session of the summer.
I was absolutely stoked when I caught an overhead set wave, cut around some guy trying to drop in and then the board felt like it was on rails as the wall got steep and jacked up. For a 10′ board, the Sub Vector turns better than a lot of shorter boards while being rock stable and providing really good paddle power.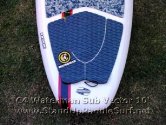 Diamond tail with a wide tail pad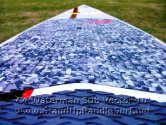 Soft deck pad
Concave deck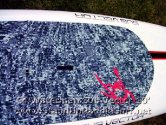 Comes with a dual leash plug and with a carry handle

I had another great session on the north shore at Jockos. The first hour was kinda lame because the tide was high and the lefts were breaking really close to the rocks. Since I wasn't that comfortable with the break, I just hung out and paddled around for a bit. I actually felt kinda like a kook because there were other guys catching a lot of waves on the right side by Holton's. I was about to paddle over to Himalayas when a set came in and I caught a great head high wave over to the channel. The tide started dropping and after that was one of the best sessions I've had all year.
The Sub Vector really picks up with juicier waves and the ability to turn it and keep its speed was awesome. I was pretty sold on the 10′er but Todd convinced me to try out the 9′6″. I'll give the update on that once I get it in something decent.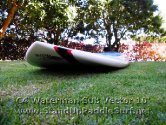 More progressive rocker than the 9′3″ Subvector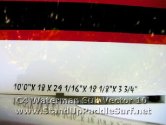 Board dimensions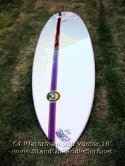 Flat bottom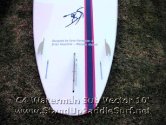 With 5-fin boxes for more options
Related posts