August 2nd, 2009 by davi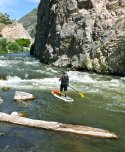 Boardworks Surf and C4 Waterman make a big Splash at Outdoor Retailer
To begin it's third show at Outdoor Retailer, Boardworks/C4 hosted its' First Annual Weber River Run on stand up paddleboards. Guests included many retailers from around the country, representatives from various publications including Canoe & Kayak and Adventures NW. Brian Keaulana of C4 hosted a few Hawaiian celebrities, Lanai Tabura, (Hawaiian radio personality on Island 98.5), and Malika Dudley, (former Miss Hawaii and sunrise weather anchor on Hawaii's KGMB9). Brian also brought Marcus Young, stuntman extraordinaire. Also present were a the Boardworks inland water reps from Colorado and the Mid-West, and the C4 "A" team from Hawaii consisting of Mike Fox, Brian Keaulana, Dave and Claudia Parmenter, and Todd Bradley and Ted Rutherford (mainland Opps).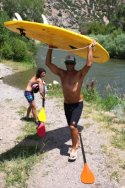 Charlie MacArthur, renowned paddler and whitewater master, acting as guide, gave everyone safety and "how to" seminars for the class 2 river adventure. The Weber is full of varied terrain with everything from flowing flat sections, rolling rock gardens, standing waves, and class 2 rapids. "We knew this would be fun," says Phil Rainey, GM of Boardworks, "but we had no idea what a great experience it would turn into." What was originally planned as a one-day event was so successful that Boardworks shuttled people up to the river everyday of the show. "If there is anything that makes you feel like a kid again, this is it and people just couldn't get enough."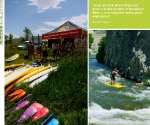 Boardworks supplied gear for everyone including C4 Waterman 10'6 ATB boards, the new Boardworks SFO soft foam boards along with Pohaku paddles, life vests and helmets. The C4 Waterman ATB, designed by Dave Parmenter in conjunction with Charlie MacArthur with special design elements for negotiating rough and fast river conditions, was the perfect vehicle for the trip. Debuting for the first time, the new Boardworks SFO soft foam board with it's wide template for stability, natural rocker lines and softer construction (preventing damage to board and rider alike) performed exceptionally well in the river as well. "What a great opportunity to get people out on our product trying this brand new sport of river SUPing, and the really cool thing about it is that people of all levels of experience from zero to expert had a fantastic time." commented Robby Ellingson, Boardworks National Sales Manager. "In all we took about 70 people down a 6 mile stretch of the Weber River, northeast of Salt Lake and everyone had a great experience. For many of our guests, it was the first time in whitewater on a stand up paddleboard, and for a few, it was the first time on a stand up paddleboard."
Thanks to everyone who attended and contributed to making this a great event and a special thanks to Nielson Business Media and Outdoor Industry Association for putting on another great Outdoor Retailer Show.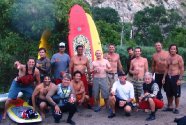 Boardworks Surf manufactures and distributes over 100 models of surfboards SUPs and paddles boards designed by some of the worlds best shapers and brands including C4 Waterman, Bill Stewart, Mike Hynson, Ben Aipa, Dewey Weber, Kane Garden and many others. Using our proprietary TEC (Thermal Epoxy Composite) and our SFO construction we offer the finest products in the Surf and Stand Up Paddle industries. Go to www.boardworkssurf.com to learn more.
Founded by some of today's most respected waterman Mike Fox, Brian Keaulana, Todd Bradley and shaper Dave Parmenter, C4 Waterman is the original standup paddle board company. Always striving to bring you the most innovative and advanced SUP boards and accessories, C4 Waterman offers the absolute best products for the sport. Learn more at www.c4waterman.com
contact: Gretchen Gamble
gretchen@boardworkssurf.com
760-722-8536

Related posts