July 14th, 2011 by davi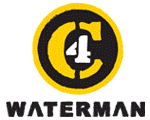 C4 Waterman, Inc. hired Ty Zulim as its global sales manager. Zulim was formerly the national sales manager for SurfTech.

"Yes, C4 is a business," says Todd Bradley, co-founder and CEO of the company, "but first and foremost it is a waterman 'ohana', an extended family of like-minded paddlers and surfers in the true Hawaiian tradition. And we are so stoked to add Ty to the mix. He is very enthusiastic not only about the growth of SUP, but about C4's push into the rescue and marine markets. He is chomping at the bit to get to work."
Zulim, who enjoys close relationships with many of the world's most renowned surfboard shapers and designers, was one of the first outside of Hawaii to see the potential of stand-up paddling. "Working for 10 years as a sales rep, operations manager, and in product development for SurfTech, I was thunderstruck by the possibilities of SUP when C4 brought out the first production SUP boards back in 2006, and of bringing surf lifestyle and the aloha spirit to any waterway on the planet." Zulim was instrumental in getting SurfTech's SUP program to the Outdoor Retailer Show in Salt Lake City, where C4 Waterman founders Todd Bradley, Brian Keaulana, and Dave Parmenter brought the world's first sport-specific boards and paddles to the inland market.
Zulim's experience in working with shapers pleases Dave Parmenter, C4's chief designer/shaper. "All shapers will tell you how splendid it is to work with people like Ty, who understand not just our craft, but also the fickle market we deal with. Plus, he has a great understanding of all the materials and manufacturing methods that make the industry so opaque to the layman. I am just so fired up to be able to add Ty to the short-list of people I can 'talk shop' with."
A veteran surfer and watersports enthusiast, Zulim has always heard the siren call of the waterman lifestyle. "A few years ago I paddled the Sacramento River for 87 miles, unsupported, and it took two-and-a-half days. I have also done the Catalina Race for the last three years. I was talking to Brian Keaulana the other day, and he tells me I'll have to do the Molokai crossing now!"
C4 co-founder Brian Keaulana, a Makaha waterman widely regarded as the man who modernized and popularized present-day SUP, says that he is overjoyed to have Zulim on board because of his close relationships with so many dealers, vendors, and fellow travelers in the surf industry. "Ty is a great athlete – he's done ultra-marathons, Ironmans and several other sports, but what I like most is his relationship with everyone in and out of the industry. We really appreciate this in Hawaii and, from the beginning, I wanted C4 more than anything to market our values and our lifestyle to the world. Ty is the perfect guy to help us do this."
Zulim's position at C4 Waterman is effective immediately. He will oversee and instrument the global sales and the expansion of C4 Waterman's line of SUPs, surf boards, paddles, iSUP inflatable surfboards, and revolutionary iRESCUE water safety products developed by Brian Keaulana and Archie Kalepa, as well as C4's upcoming line of apparel and accessories.
Related posts