September 26th, 2009 by evan
On my recent visit to the Tropical Blends' shop, Jim Hayes showed me a couple of new shapes in their SUP board line up, the 9′2″ by Kyle Bernhardt and the 9′10″ by Dennis Pang.


Jim Hayes, Tropical Blends owner

The 9′2″, according to Jim, is designed for a wide range of folks from smaller women to bigger guys who want to surf harder on a smaller board. It comes in 3 designs: 2 different color schemes with a PVC surface, and a really nice bamboo veneer surface with a shiny, polished finish. At the bottom, it runs a single concave with a double barrell and has 5 fin boxes which makes it flexible when it comes to fin setup.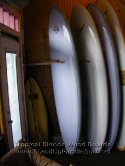 The Kyle Bernhardt 9′2″ with PVC surface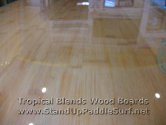 The new bamboo veneer surface with super polished finish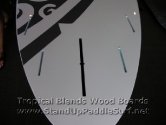 With 5 fin boxes, the board can be used with different fin configurations

(click thumbnail to launch video)

The next board Jim showed me was the 9′10″ shaped by Dennis Pang. They designed this one for the gals paddling in and out of the Ala Moana beach park, but Jim was pleasantly surprised at how well it surfs. The pulled in tail which helps in steering makes the 9′10″ a very good surfing SUP board. It comes in 2 finishes: a nice color scheme on a PVC surface, and the sleek bamboo veneer finish.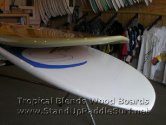 The 9′10″ Dennis Pang board, in bamboo veneer and PVC surfaces

(click thumbnail to launch video)

Jim also shared some interesting tidbits on how they came up with the bamboo veneer surface on their new boards. It took them about 6 months of R&D to find out which material will work best. It had to be soft enough that it flexes with the board but hard enough that it can be polished. Jim even mentioned that the guys at his factory tried pounding on the side of the board with a metal pipe to try to get it to chip. They wanted to make sure that they came up with a product that can withstand the regular paddle banging at the side of the board.
This new wood veneer surface and polished finish is really, really nice. You'll get an idea from the pictures and the video but it's much nicer looking when you see it in person. And this type of board construction is available for all Tropical Blends SUP models, from the 11′9″ down to the 8′10″ which will be coming out soon.
Related posts