March 29th, 2010 by davi
March 29, 2010 (Santa Cruz, CA) – Chuck Patterson (Dana Point, CA), won the 2nd Annual Surftech SUP Shootout at the Lane over event rookie Zane Schweitzer (Lahaina, HI), Michael Roberts (Pacific Grove, CA) and pro kiteboarder Peter Trow (Central Coast, CA) to take out his second Surftech Shootout victory in as many years.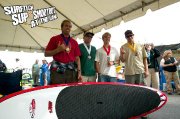 Patterson has emerged as one of stand up paddling's premier over-all athletes alongside Australia's Jamie Mitchell, Hawaii's Slater Trout and a host of other elite paddlers. Chuck's proven his athleticism by winning prestigious races such as the 2008 Rainbow Sandals Battle of the Paddle, he's one of the leading stand up paddle big wave riders (Chuck was the first paddler to charge the Cortez Bank this winter) and he showed all who were at Steamer Lane on Santa Cruz's notorious Westside this weekend, that he is one of the world's best in waves of any size.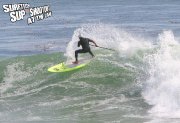 In a final that saw consistent double overhead plus sets rolling through Middle Peak, competitors had to decide whether to attempt to pick off the Middle Peak bombs or opt for the lined-up bowls at the Slot. "The Lane was a World Class wave this weekend!" exclaimed Patterson "These guys were ripping and really pushing the levels of waveriding today. After each wave, I'd paddle back out and see guys just killing it."
"The Surftech Shootout was awesome this weekend." said runner-up Zane Schweitzer "You couldn't ask for better conditions. It was solid 5′-6′ Hawaiian out there today. I'm so stoked! Thanks to Surftech for putting on such a great event"
Pro kiteboarder, Peter Trow decided to enter the contest at the last minute. "This was my first SUP contest so I'm really stoked I decided to come up. The waves were great"
"The Surftech Shootout is going to be on everyone's calendar next year for sure." commented Patterson "It was a very well run contest and the venue is unreal."
For event highlights click over to SurftechSUP.com.
Surftech SUP Shootout Final Results:
1 – Chuck Patterson
2 – Zane Schweitzer
3 – Michael Roberts
4 – Peter Trow
Surftech SUP Shootout Semi Final Results:
Heat 1 – Peter Trow 54, Michael Roberts 51, Ed Guzman 41, Seth Dow 33
Heat 2 – Chuck Patterson 60, Zane Schweitzer 59, John Griffith 55, Mike Vaughn 49
Follow SurftechSUP's twitter or check out the SurftechSUP facebook page.
For more info contact:
Duke Brouwer
Surftech Marketing
831-479-4944
duke@surftech.com
Surftech on facebook & twitter
Related posts