March 3rd, 2010 by davi
March 3, 2010 (Santa Cruz, CA) – The stage is set for the 2nd Annual "Surftech SUP Shootout at the Lane", happening March 26th – 28th. It's been a record El Nino winter with pumping surf slamming the California coast week after week. The result of all this wave action (other than broken relationships & loss of jobs) is the massive sand bar that's developed along the cliffs at Steamer Lane!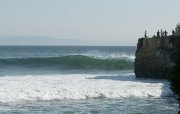 Happening in conjunction with the Santa Cruz Surf Kayak Festival, for a few hours on the weekend of March 26-28 stand up paddlers will have Steamer Lane all to themselves! Pro level competitors can compete in the "Elite" division for prizes and bragging rights, while intermediate competitors who want to take advantage of the Lanes empty line-up can enter the "intermediate" division. The event will include more than $2,000 in prizes, Silent Auction, SUP demos and clinics, Manufacturer Expo and after parties.
2009 Surftech SUP Shootout Elite Results:
1ST PLACE – CHUCK PATTERSON 64 POINTS
2ND PLACE – JOHN GRIFFITH 62 POINTS
3RD PLACE – BRYCE SAEMON 57 POINTS (OWNING THE TIEBREAK)
4TH PLACE – WARD COFFEY 57 POINTS
For registration, contact:
George Phiripes – sup@surftech.com
or call 831-458-3648
For the photos from the 2009 Shootout, check out the gallery to see the the boys putting it down at the Lane.
For more info contact:
Duke Brouwer
Surftech Marketing
831-479-4944
duke@surftech.com
Related posts