April 9th, 2010 by evan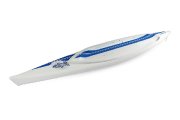 Another board from Starboard's 2010 racing lineup, the K-15 stand up paddle race board. Here are some photos and info sent to us by Margareta Engstrom, Starboard's Media Manager.

I think I had the first K-15 in the U.S. last year. This board is pretty stable and has very good glide.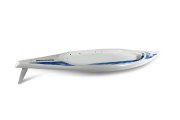 Side view of the K-15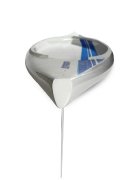 Tail view of the K-15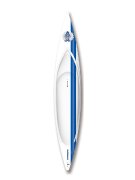 The K-15 with blue stripes
The K-15 with red stripes
Specifications and info from Starboard's site:
K-15
15′0″ x 30″

From Starboard:

The K15 is a complete breakthrough and comes directly from one of the greatest designers of our time. Jim Drake has created a board that is extremely efficient , friendly and fast. The slightly rounded sleek underwater hull with a sharp nose provides a fantastic paddling sensation on flat water. The shape also travels extremely fast and smooth in choppy water on all courses. It catches surf easily and you can walk back in the cockpit to lift the nose up to fit any sort of wave configurations. The water ventilation plugs are designed in a way where you can open and close them by the touch of your finger tips. Keep them closed for flat water paddling and open them for rough water adventures. There are insert plugs both in the front and in the back of the board to tie down bags or even a storage box if needed.

The K-15 is also a fantastic light wind windsurfing board, resembling the Serenity from Starboard's Windsurfing range. It doesn't require a jumbo sail. It doesn't require pro-level skills to enjoy. Best of all, it doesn't require real wind for an exhilarating ride. Simply attached your rig and center fin, hop on, sheet in and go.

Available in: Red Stripe Full PVC Sandwich and Blue Stripe full
Epoxy ,Glass, EPS with wood veneer standing area.

Dimensions:
Length: 457cm
Width: 77cm
Tail width: 8.8″ / 22.4cm
Volume: 228L
Thickness: 7.3″ / 18.6cm
Related posts