April 8th, 2010 by davi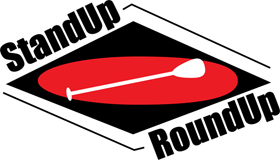 Winner-take-all $1000 purse sure to generate excitement.
Encinitas, ca (April 7, 2010) – If you've ever wanted to try the fastest growing water sport in the world, Standup Paddling (sup), now is your chance. A free, open-to-the-public, flat-water festival known as the Standup Roundup will take place on Sunday May 23, 2010 at Mission Bay's Bonita Cove. Over 20 of the SUP industries top manufacturers will be on hand, including C4 Waterman, Rusty and Paddle Surf Hawaii offering demos to the public with the latest and greatest SUP boards, paddles and equipment.

"The mission of the Standup Roundup is get people on the water in a very comfortable relaxing atmosphere," said festival director Scott Bass. "No waves, no currents, just flatwater, with experts instruction, all for free, fun for the whole family."
In addition to the all demos, there will be a $1000 winner-take-all Knockout race, and anyone can enter. There will be a Pro division and a Novice division, and the top four finishers from each division will then vie for the $1000 in a race course that is sure to Knockout a few egos!
"The race format is unique and exciting to watch. Eight paddlers sprint 100 yards and the last place finisher gets knocked out, hence the name Knockout race," explained race director Dan Van Dyck. "The remaining seven racers then sprint the course again, and again the last place racer gets knocked out. And so it goes until we a have a winner."
For more information
free to the public
Exhibitors or racers register here -
http://surfboardshow.com/registration_SUP10.html
Marketing Opportunities Available
Contact: Dan Van Dyck dvandyck@pcfs.net
Related posts