October 25th, 2010 by davi

Surftech Transitions into Multisport Market
October 26, 2010 (Santa Cruz, CA) Surftech, the worldwide leader in Surfboard and Stand Up Paddleboard manufacturing has once again broken new ground by being the first stand up paddle company to cross over into the Multisport market!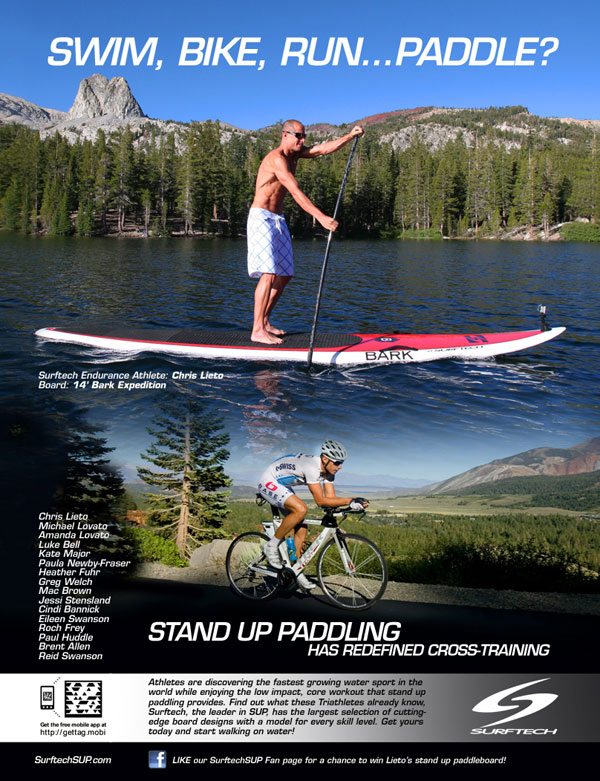 Surftech ad in NOV issue of Triathlete magazine features a QR code linking readers to Chris Lieto video
After releasing the very first production stand up paddleboard in 2005, Surftech quickly realized that stand up paddling (SUP) wasn't just limited to the ocean and riding waves. For the first time, those living inland had a close connection to the ocean lifestyle by way of "walking on water" on their SUPs.
Realizing the health benefits of stand up paddling, Surftech's marketing team in 2007 reached out to multisport icons, Heather Fuhr, Paula Newby-Fraser, Roch Frey, Paul Huddle and Greg Welch to confirm what they already knew, that stand up paddling can be a significant cross training and core strengthening workout and fun alternative to the swim, bike and run routine. "Stand up paddling is walking on water, it's the coolest thing you can imagine". - Paul Huddle, multisport coach and former professional Triathlete.
Starting in 2007, Surftech began a grassroots marketing campaign in the multisport channel by participating in such events as, Ironman Hawaii, Coeur d'Alene, Lake Placid, Arizona and California 70.3 in addition to many regional Triathlons including Wildflower, Marin County Triathlon, Big Kahuna and others. "We wanted to connect with athletes and give them a chance to try stand up paddling for themselves" said Surftech Events/Promotions Manager, Duke Brouwer. "Leading the swims and running demos at Triathlon events was a great way to make that connection and bring stand up paddling directly to them."
The connection was certainly made as Surftech began to build a team of endurance athletes unrivaled in the stand up paddle industry. Surftech Athletes are some of the finest in multisport. Chris Lieto, Luke Bell, Michael and Amanda Lovato, Kate Major, Mac Brown, Jessi Stensland, Reid and Eileen Swanson, Cindi Bannink, Julie Moss and Brent Allen are leading the SUP multisport charge. In 2010 Surftech opened Nytro as it's first Multisport specific retailer. Nytro in Encinitas, CA is one of Triathlon's top retailers.
If you'd like to give SUP a try, join Surftech at this weekend's Marin County Triathlon and see for yourself why stand up paddling is the world's fastest growing water sport. And don't forget to check out the Surftech ad on page 71 in this month's Triathlete Magazine and use your smartphone to scan the QR tag for the complete story on Chris Lieto and why he loves to stand up paddle.
Check our Facebook page for more info, photos & videos or go to our web site, surftechSUP.com
Become a Surftech SUP Fan and
Enter to win Chris Lieto's Stand Up Paddleboard!

For info: Duke Brouwer | duke@surftech.com
Related posts