February 6th, 2009 by evan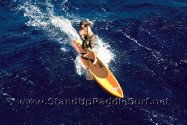 After riding Ray Shiraishi's F-14 in epic downwind conditions a few weeks back I couldn't get it out of my mind. I told Ray that his F-14 (w/out rudder) would be perfect with a rudder. Last week I called Mark Raaphorst at Sandwich Island Composites (S.I.C.) to ask how long it would take to shape an F-14 and see what was new. I got lucky as it turned out another customer had ordered an F-14 carbon molded model SUP and didn't like the color so I ordered it. I got it yesterday.
With a new baby I missed this past week which had really good tradewinds and swell. I got the report from people that they had awesome downwind runs. I checked the surf report and NOAA and they said that today would have trade winds…wrong. My wife let me do a Hawaii Kai run and not only was it glassy with no swell, the wind turned into a slight South wind. That means I paddled upwind in no swell. Talk about hard, it took me an hour just to get to Kahala (4 miles).  Today would have been a much better surfing day because the south shore got an overhead swell and the north shore is massive. At the end of the run I caught a steep overhead wave out at Rice Bowls. It was on a whim and thinking about it, if I wiped out the board would probably have a good chance of being damaged. Well, I didn't wipe out and rode it until it died out. What a rush! The F-14 flies on the wave and actually surfs pretty good. I can't wait to try the F-14 on a good day with trade winds and swell. Until then, here's more info on the board.
Check out the video below of the F-14 in action

(click thumbnail to launch video)
I had so many questions about the F-14 that Mark sent me this info below.
F-16 vs. F-14
Sometimes less is more. If you've been thinking of buying the F-16 or if you already own one, but think it may just be too big for you, then this is your board. The F-14 is more maneuverable, lighter, shorter and thus easier to handle. If you are light, then the shorter length will not compromise your speed. It takes less muscle power on an F-14 to propel you into the next glide.
In most competitions, the F-14 can be raced either in the Stock division as a fixed fin entry as well as in the Open Class as a steering rudder entry. (see more about race categories in 2008 And Beyond).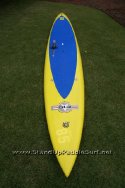 The S.I.C. F-16
The F-16 has a higher volume, is wider and has more nose rocker. And although the F-16 is slightly wider than the F14 it also has a bit of a roll on the bottom under your feet – this roll makes it fast but also sacrifices some stability. The new single concave found under your feet in the F-14 adds more stability without compromising the glide (read on).
If you want a fast, fun, manageable point to point board and want the possibility to enter any 14′ stock class race the F-14 is for you!
The Hull:
The entry and mid section are single concave with 2 flat side panels moving into a double concave with some panel V in the tail. The thought behind the light concave is to enhance the gliding ability of the board. It connects easily from trough to trough in open ocean conditions. The bottom contours and the two side panels make for a stable ride.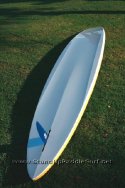 Bottom view of the F-14 showing the board's double concave and the rudder
The Rocker:
The nose entry is subtle, but it has more than enough lift for a good drop in rough water. For its size it has an effectively long waterline and so in the flats it glides well. Mid-section is fairly flat and it finishes with a gradual tail rocker.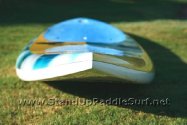 The F-14 nose and nose rocker
The Deck:
We've incorporated our trademark V panel bow into the the design once again. Its purpose is to exit clean and straight up when submarining into an upcoming swell. The deck cockpit is dished out to increase foot comfort and stability.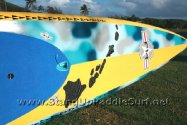 New placement for the air vent
The Volume:
The nose is thin. In a side breeze the wind age surface is minimum. The thickness in the mid section is 5″. The full volume tail is 3″ thick. The board's best potentials are met when riders are 215 Lbs. or less.
The Rails:
The under tuck is medium soft for side to side forgiveness and general surfing feel. The hard edges in the tail increase water release and increase planing speed. The general rail thickness is beefy and prevent water from sloshing onto the deck.
The Construction:
Made of high temp. cure epoxy impregnated carbon and glass composite. All laminations are vacuum bagged in order to obtain a high fiber to resin ratio. Both bottom and deck have a 1″ extruded styro core which is non-water absorbent. Under heels and the center are three 2″ thick stringers. Heel areas have extra carbon reinforcements. Our molding process allows for a heavy duty tail section and light weight bow lay-up.
The EVA pad is level with the deck and fits seamlessly.
The Weight:
26 lbs. – includes 3/4 size EVA pad, fin box, handle and steering system.
The Steering:
All boards are always made with a fin box, internal cable housing and a rudder post. Therefore, steering is optional. For a board with our Active Steering System (A.S.S.), we will rig it with steel cable, foot pedal and a rudder (see below for additional cost).
The internal cable housing is plumbed for both goofy or regular footers but ultimately rigged to rider's choice of side (goofy is right, regular is left side). If the A.S.S. is not chosen, a normal surf or sailboard fin can be used in the Çhinook style finbox. Changing the system is easy for the layman and does not require any tools. This feature also makes it more resale-friendly. The rudder is a molded 9 1/4" spitfire type (straight up and down) design. It has a foil for medium speed (5 to 15 MPH) efficiency.
Cables are tension adjustable with a turn buckle in the rear.
All hardware is stainless steel and molded carbon.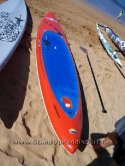 Another color variation of the F-14
Colors:
All bottoms are white. Deck and EVA pad color choices are found in the Selector (use web link menu) page on our website. Two-tones and fade jobs are done at an added cost. (see Cost)
Time frame:
It takes a $400 down payment to be placed on the production schedule. The $400 is fully refundable up to 4 weeks prior to the start of your order. Next opening in our production schedule is mid-February.
Cost:
$2100 including handle, pad and fixed fin.
(with steering system cost is $2300.)
Extras:
Two-tone color: $150
Fade job: $50
Internal Storage Hatch: $100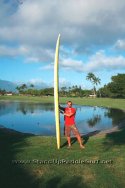 Mark Raaphorst with the F-14
Testing and Race Results:
The F-14 has been tested on both Oahu and Maui.
In the 2008 Naish Maui Paddlboard Championship (Maliko Gulch) Race, Mark Raaphorst was the first across the line with a fixed fin on the proto-type F14.
In the 2008 Hennessy Turtle Bay to Waimea race in the stock division Mark came in first on the same prototype F14.
Shipping:
Inter-island pick up at YB is $30
East coast air cargo is approx. $500
West coast air cargo is approx. $250
We do not charge for packaging.
Travel bags: Custom fitted bags are $225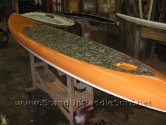 Here's the F-14 that I ordered
Photos f-14-01 to 03 courtesy of Gary Wise and Sandwich Island Composites
Related posts