April 17th, 2008 by admin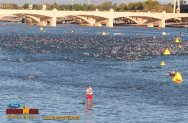 Sunday, April 13, Surftech took part in the 2008 Ford Ironman Arizona event held in Tempe, Arizona showcasing the sport of standup paddling to the triathlete community and leading the 2.4 mile swim segment of the race.
Paula Newby Fraser, 8-Time Ironman Triathlon World Champion and triathlete coach with Multisports.com, worked with Surftech's team to lead the pro division, where top finishers completed the leg in just over 48 minutes. Starting 15 minutes later, the huge field of amateur athletes was lead by Surftech standup paddlers with the top swim finisher beating the pros time with a finish in just over 47 minutes!
For many of the 2500 athletes, Surftech's involvement in the event was their first introduction to standup paddling. Their positive response mirrored the original excitement of the Multisports.com team, who played an instrumental role in activating Surftech's involvement in the event. "It's an amazing workout", comments Heather Fuhr, 2008 Ironman Hall of Fame inductee, "You're just working your core the whole time". Heather and the coaches at Multisport.com are regularly using SUP's (standup paddle boards) in training, a testament to their value as an incredible full body workout and optimal cross training activity for swimming. Unlike the often grueling routines undergone by triathletes, SUP's offer a fun, social and challenging activity while providing a rigorous core workout to supplement their regular training.
Due to restrictions, only a limited number of athletes had the option of trying out boards at the Tempe event, but those who did were visibly impressed. "It's so much fun, and such a great workout!", commented Megan Flanagan of Austin Texas who won her age group in Tempe in her first ever Ironman event. " I can't wait to get a standup board back home to train on". Other athletes and local community members eagerly checked the boards out at the event booth and worked with Surftech's crew to determine the best option and size for their specific needs. With the resounding positive response, Surftech will take part in next months Ford Ironman 70.3 (half Ironman) in Orlando, Florida, offering competitors and local community members alike their first time trying the fastest growing sport on the water.
Check out http://www.youtube.com/watch?v=Izd6G62A4UA to learn more about standup paddling as a cross training exercise or learn about Surftech's line of standup paddleboards at www.surftech.com


(click thumbnail to launch video)
Related posts