May 29th, 2008 by admin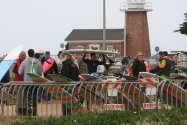 The First annual Surftech SUP showdown took place in conjunction with the 24th Annual Santa Cruz Longboard Union Memorial Day Surf Contest at the infamous Steamer Lane. Small conditions did nothing to temper the crowd's excitement as competitors drew one of 7 Surftech boards on which they competed in their first round heat.
"Drawing boards from a hat made the event much more fun" Comments Duke Brower, Events/Promotion Manager at Surftech. "It evened out the competitors and got people riding new equipment". Having to ride a board for the first time might have added a fun element to the event, but did not slow down the competitive nature of the surfers as they all pushed their boards to the limits, taking off deep and narrowly trimming by the cliff before putting their respective board through its paces on the inside section.
Josh Garison of Huntington Beach drove the whole day just to partake in the SUP event and garnered a respectable 3rd place for his efforts. With all 6 competitors in the final putting forth a serious effort, it looked to be anyone's event to take, but only Ward Coffey was in contention for the win against the formidable Jeremy Portfolio. Despite his local knowledge, almost eerily perfect positioning for every set wave and smooth style, Ward was unable to match Jeremy's patented round house cutback to nose ride to helicopter that had the whole cliff cheering. Jeremy's win garnered him the sought after broom trophy a humorous nod to the popular "janitor's of the ocean" notoriety that many stand up paddlers bear in the notoriously competitive Northern California lineups.
The event's success insured that it will continue as a component of the Memorial Day event as well as be a part of future Surftech projects.
Related posts