May 27th, 2008 by evan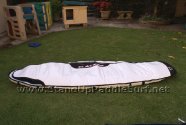 I bought a DaKine board bag for a friend for Christmas which turned out to be the best present he got last year. The bag was for a 9′ longboard but that gave me insight into the quality of these bags. For the first 3 months of 2008 we drove to the north shore quite a bit and this bag really came in handy.
It was so handy that I had to get one for myself and here it is. The good thing for me is that I think the SUP Board Bag has more features than the one I got him for Christmas.
I got the 10′4″ version to hold my 8′9″. It fits nice and snug and keeps my car from getting wet after a session. It's also not too heavy. I really like the reinforced handle on the bag. That extra support comes in handy from such a big board to carry.
SUP Board Bag comes in 10′4″, 11′0″ and 12′3″ and retails for $180-, $190- and $200-
Available at Tropical Blends Surf and Wet Feet Hawaii.
Features:
Durable white tarpaulin to with heat reflective tarpaulin bottom
3/8″ Foam for maximum protection
Heavy duty corrosion proof wrap around zipper with internal protection
Sidewall compression cinch straps
Paddle Handle
Padded removable shoulder strap with stash pocket
Wax pocket


(click thumbnail to launch video)
Related posts