May 6th, 2008 by evan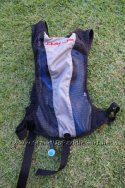 There's been some talk about hydration bags for stand up paddling and especially for long cruises or downwind runs. There are a number of choices out there although this is the first one I found that is water sports specific.
This pack is very minimalist in that you have only what you need. There aren't a ton of mini pockets and material you won't use. The DaKine Waterman Hydration Pack is designed to be lightweight, unobtrusive and functional. That's exactly what you get.
There's an ingenious device in the sternum clip on this pack. The clip has a built in high pitch whistle. This is great if when you're out at sea and the waves dampen any yelling or screaming you can produce.
You bite on the nozzle and suck the water out like other packs. I have not used other hydration packs before so I have nothing to personally compare it to but I don't think I need to because I really like how the DaKine one works.
I need to get in some water time with this pack and then post an update.
Specs:
70 oz. [ 2L ] Wide mouth reservoir
Molded drain plug
Lightweight nylon/mesh construction
Available at Wet Feet Hawaii www.wetfeethawaii.com


(click thumbnail to launch video)
Related posts