May 3rd, 2008 by evan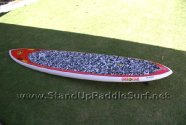 I finally got a chance to ride the C4 Waterman Holoholo. This is a stand up board that I saw on the floor months ago at the C4 HQ. The real board is very slick looking. Here's what my initial impression is.
I first got a chance to use this on April 21. I got Todd to let me use a brand new one while waiting on the one I ordered. I literally took it straight from the warehouse to the beach to get it wet. Since the wind was pretty strong (20 mph+) and there were only small waves it was the perfect opportunity to do a downwind run.
My buddy Kekoa and I did a short run from Kahala Beach Park to Kaimana Beach. Kekoa was on the Angulo 11′9″ and I rode the Holoholo. The wind at the Kahala launch was so strong that Kekoa wanted me to go first and see if I could make it out to the channel. I made it out pretty easily. The Holoholo is fast.
My overall impression is that the board initially feels a bit tippy because of the 27.5″ width although the rail and bottom contours don't let it tip all the way over. It's a different feeling. It feels like it may tip but catches itself. I didn't fall off the side that much during the run and no where near the amount of falling I did on the F-16 and Vortice XP.
The Holoholo had no problem catching open ocean swells and I got some great ones around Black Point and Diamond Head. Coming in to Kaimana Beach I caught a couple small waves at Tongg's but was tired by then so we just went in.
I had to get the board back to Todd on the 23rd so I took it out for a short session at the sand bar at Kaimana Beach. There was no wind and it was glassy. The waves were knee high at best. I was very surprised at how maneuverable the Holoholo was in the surf. I caught whatever I wanted (I was the only guy out) and could make turns ok. This may not seem like much but I had a 12″ keel fin on the bottom. This board actually surfs ok from what I noticed.
Todd told me that the Holoholo was meant for something like 70 to 80% cruising and the remainder for surfing. This board is super fun to ride. I'm going to strap my son's chair to the front and see how that goes next.
The dimple holes in it are to attach gear. I think you drill a sheet metal type screw into it to attach handles, nets, etc. I'll ask Gregg to post the info on this in the comments.
Related posts