April 21st, 2008 by evan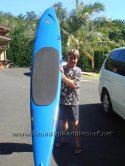 I was at C4 HQ a while back and got a first hand look at the new Eleu production paddle board. Todd said the Eleu has the most wins in races so far. This board is super light. It feels lighter than a 9' longboard. Todd's son Christian rode this on one of our downwinders and if he didn't wait for me he would have been an hour ahead. That's partly because I kept falling off my board but that's beside the point.
Here's what C4 has on the Eleu.
This 12′ stock paddleboard is geared for elite stock paddleboard racers up to 200 lbs. The reborn 'Eleu is hollow carbon and weighs just over 10 pounds. Originally designed by Todd Bradley and built by Karel Tresnak, the 'Eleu design has won more paddleboard races than any other stock board in the world.

Comes complete with deck pad and dagger fin.

Price: $1,499 + Shipping & Handling.

Specs:

12 feet long
22 inches wide
Carbon shell
10.6 pounds dry hull weight
(Just over 11 pounds with deck pad and fin)

Features:

Hollow carbon hull
EVA deck pad
Vent plug
Leash loop
Fin included
Related posts