June 14th, 2008 by edgardo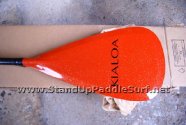 Dave Chun of Kialoa Paddles answers questions about paddling technique, paddle design and performance, his all-new Shaka Puu paddle, and general concerns about the stand up paddle surf culture. Dave also talks about choosing the right paddle, which all boils down to intuition that tells what type of paddle is best for the stand up paddle surfer.
We get to learn more about paddles and why design and performance are always relative to individual surfers.
In this video, Dave looks at the dimensions of the Shaka Puu paddle and talks briefly about the absence of data that could help in determining which paddle is right for the individual. Right now, he Dave says, the best way to find out what type of paddle is ideal for the surfer is to go out and try different designs and see what suits best.


(click thumbnail to launch video)
Evan Leong: Mel Puu is a big dude, so he is using, even this paddle at 8 and ¾, it seems a little bit wide when you look at the normal dimensions in other ones—8 ½ or so on. But the shape of this is different. It only gets 8 and ¾ at the bottom, and it goes to 8 inches and lower pretty quickly. Does that help it move through across the water faster or…?
Dave Chun: It is easier on him. Now it's probably good technique. He is a canoe paddler, and exceptional canoe paddler, so he already have that in place. The better technique, the more efficient you get in to the water. We're not going in to paddle technique and stuff like that, it is enough said that he has got good technique. The other thing is you only need enough traction to get on the wave. (_____), another guy who uses my stuff, he is six- or seven-time world champion one-man guy and he told me something once that has always stuck with me. He said, "I only need enough speed to get on a swell." So you trim the paddle as much as you can so it's the smallest paddle you possibly can use. A big paddle fatigues you quite a bit. That's the thing about paddles, the paddle that you are fastest with at a five-minute mark is not the paddle you're going to be fastest with after an hour or two hours. Once again, that is one of the difficulties in obtaining data on what is the ultimate paddle because the duration of the vent dictates a lot of times what you need. Surfing tends to be soft start, but guys go off for really long sessions, right? That's why they're gravitating towards really smaller paddle. Maybe it feels small on the first stroke but on the 10,000ths of the day it's probably exactly right. No, probably earlier than that but…
Evan Leong: So with the new paddle, Mel's huge, what about smaller guys, 190, 170?
Dave Chun: It'll be fine. This isn't… I don't get too much in to fine tuning of a paddle thinking that you're really going to find the ultimate thing. Everybody's is different for one thing. I haven't been able to find any kind of data to support big guy, small guy, fit guy, out of shape guy, for what people like. Really the only way to find out what paddle is right for you, is to go out and try it. That's where we offer demo programs to shops. Shops can purchase demos from us and we like that. I like you to buy my paddles but ultimately we want people to be happy in the sport, to buy the right thing. If it's one of my competitors and they're totally happy with it, that's good because the main thing is they're out there promoting the sport and that's good for all of us. If more surfers… well, if you're a surfer, you don't want tons of guys in the line up but it's another issue.
Evan Leong: So your shafts, I notice I mean I really like this shaft. I told you it reminded me of my high-end kayak paddle. And the weave, it looks super nice and it's super light.
Dave Chun: Yeah, it's a carbon shaft. Everything we make is proprietary in design. Basically, one of my workers, Jeff Hun, he… I design the parts, Jeff tells me if we can make the parts profitably because some times us designer guys we get kind of off the feet. What we do when we design our shaft is… one of the goals in mind, we make the basic assumption that surfers don't have the same sized hand as guys who paddle canoes. So we didn't want a big, bulky shaft. So we basically shaft it to the same size as our outrigger shafts. That puts some constraints on the strength design sense because the bigger you make the shaft in diameter, the thinner you can make the walls to get the same amount of strength so we had to find a way in engineering around this because the size of our shafts—the outside dimensions. So everything that really happens in this shaft, if there's any magic, and we've actually only have two of these shafts break—that's like over 500 plus. Our breakage on our paddles, blades and shaft, is less than one percent, which we like. What we meant is we really did look at white water paddles and my friends started what became (AT Paddles) and we really relied on them to help us with our lay ups.
Evan Leong: Do you prefer oval shaft or round shaft?
Dave Chun: I prefer both. Depends on what you are trying to do. Going with our whole theme, personal preference. Some guys like rounds, some guys like ovals. On this paddle, we needed to get a dish of strength in this paddle because it is such a long shaft, so we went with an oval because that was going to put more strength in the direction we needed, which is coming out at the front of the paddle. Some of our full carbon paddles, we do a round shaft because what we're trying to do with those outrigger paddles, we try introduce flex in to those paddles.
Kialoa Shaka Puu Stand Up Paddle (Part 2) [5:15m]:
Download
Kialoa Shaka Puu Stand Up Paddle (Part 2) [5:16m]:
Download
Related posts