July 9th, 2008 by admin


QUIKSILVEREDITION MOLOKAI TO OAHU PADDLEBOARD RACE

SUP Division Presented by C4 Waterman
From the desk of Jodi Wilmott–

THE CHAMPION: Jamie Mitchell
World and US champion paddleboarder from 2002 to present.
Quiksilver Molokai Champion 2002 through 2007.
Big wave rider:
Finalist, 2007 XXL Big-Wave Contest – paddle-in category
Finalist, 2007 XXL Big-Wave Contest – worst wipe-out category
Lifeguard.
Stand-up paddle surfer:
3rd Place Paddle Core Fitness Pro SUP , Sunset Beach HI
Invitee QuiksilverEdition Ku Ikaikai SUP Challenge, by C4 Waterman, Makaha, HI
Honed his skills on Australia's Queensland coast line, but he made his mark in America.
Just acquired United States "O" Visa on the grounds of extraordinary athletic ability.

THE CHALLENGE: 32 Miles of Open Ocean
Regarded as the world championship of paddleboard racing.
Traverses 32 miles of rough water from the North Shore of Molokai, to the South Shore of Oahu.
Covers a depth of 2,300 feet and is subject to open-ocean swells of up to 30 feet.
Considered one of the roughest ocean channels in the world.
Ultimate test of endurance – no engines or sails, just a paddler and the propulsion power of his arms.
Wildy varying open-ocean conditions challenge a paddler's surfing skills.
Top paddlers can ride swells for 100s of yards.
Capricious currents and tidal effects test a paddler's ocean navigation skills.
Record crossing time: 4:45:03, set by Jamie Mitchell in 2004.
IN 2008:
Celebrates 12th annual crossing in 2008.
More than 135 paddlers from around the world are set to take up the challenge.
Event includes prone paddleboard, the C4 Waterman stand-up paddleboard division, as well as 2-person teams, men & women.
For the first time, in 2008 the four Hawaii TV stations will be entering 4-person teams that will include an on-air news, sports or weather anchor, one celebrity, and two seasoned paddlers. The stations are KHON2 (FOX), KITV4 (ABC), KHNL8 (NBC), and KGMB9 (CBS).

THE CHANNEL: True name: Ka'iwi (kah-ee-vee)
Ka'iwi Channel – translation: the channel of bones, aka: Molokai Channel.
The Ka'iwi, or Molokai, Channel has a centuries old reputation for being a treacherous body of water that has claimed the lives of many, from ancient canoe fleets, to fisherman and watermen.
The tragic loss of Hawaiian big-wave rider and renaissance man Eddie Aikau in the Molokai Channel during the 1978 Polynesian voyage of the Hokule'a sailing canoe, only added to the mystique and revered power of the channel. After gail-force winds and 30-foot swells disabled the Hokule'a, Aikau headed off on his rescue paddleboard for land to seek help for his stranded crew mates. His body and his board were never found.
Paddling has been a part of Hawaiian heritage since early Polynesians traversed over 2,500 miles of open ocean, navigating by way of waves, wind and stars. Double-hulled sailing canoes covered the long distances, single hull outrigger canoes covered shorter distances (such as inter-island paddles), and with the introduction of surfing in the late 18th century, paddleboarding also became a means of local ocean transport.
Today there are official races for outrigger canoe, surf skis, and paddleboards. Each take place across the Molokai Channel and each of these races are regarded world-wide as the crowning challenge for each sport.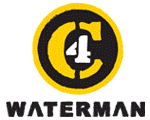 Presents the C4 Waterman Stand Up Paddleboard Division
MEDIA CONTACT FOR THE RACE:
Jodi Wilmott, Ocean Promotion – (808) 258-8533 – oceanpromotion@hawaii.rr.com
Related posts