August 25th, 2008 by admin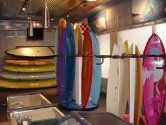 Surftech officially opened their Hawaii Showroom Friday August 15th at their new location in downtown Honolulu. In celebration of the inaugural venture, Surftech held a Private VIP Party for its Hawaiian retail partners, local industry and friends and family made up of many of the local surfers and shapers. Kicking off with a traditional Hawaiian ceremony including a blessing from Pohaku Stone, a kava ceremony and a contemporary champagne toast, the 250-330 attendees came from throughout the state. On Saturday, following Fridays' party was the official public opening. Held in conjunction with the annual Duke Festival the opening included celebratory TL2 surfboards painted by local keikis as well as Hawaiian artists. The finished boards will be displayed at the local Outrigger hotels and Boardriders clubs.

"For us, this is much more than a showroom or retail location. We can now provide unprecedented dealer support, educating both the public, and our retailers on the quality and breadth of our product offering." Comments national Sales manager Ty Zulim, "Additionally we can showcase all of our brands and products, many of which would otherwise not be represented in Hawaii." The new showroom offers an incredible view into how wide Surftech's range of boards has grown in recent years. In addition to expanding their performance line of shortboards and longboards, Surftech now offers top of the line paddleboards, SUP's, skims, accessories and softgoods. Currently showing a combination of both the newest and most sought after designs, the showrooms layout is designed to allow for constantly revolving the products shown to keep the location fresh and give visibility to all of the boards and accessory's Surftech builds. "Hawaii has always been the ultimate proving ground for our boards. It is great to have a new home to showcase everyone's newest designs" explains Randy French, Surftech Founder and CEO. In addition to getting to see the newest boards, the showroom offers videos, brochures, interactive board searching solutions as well as an educated staff that can answer any Surftech related questions. Open 7 days a week, the central location at 945 Queen St in Honolulu offers prime access to both locals and visitors alike.
Related posts