September 12th, 2008 by evan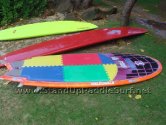 Another stand up paddle board from Sam Pa'e. This one is an 8 footer and looks pretty cool. That colorful pad on top of the board is actually the same as those rubber pads you can buy at Home Depot. This board was much easier to stand on than his 7′10″. It's also something like 34″ wide which makes it stable.
I didn't get a chance to surf it because there were no waves but it looks pretty fun. Check out the video of Sam talking about his board.


(click thumbnail to launch video)
Related posts