November 23rd, 2008 by evan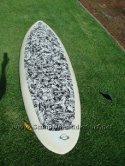 Here's a short video I took of Joe Blair's 9′8″ SUP custom board which he made for my friend Jeff and I 'borrowed' for a while. The board has a slightly pulled in nose, round pin tail and originally had three 4.5″ fins on the bottom. I've had pet peeve about the Blair boards that I've ridden. Although they surf amazing and are super stable, it takes a bit of getting used to due to the way it yaws side to side when paddling. After thinking about this, I decided to replace the middle fin with a 6" cutaway in the center fin and leave the 4.5″ side fins. I tried it at Diamond Head a few weeks ago and at Leftovers on the North Shore the following week and the difference was night and day.

The board paddled way straighter and it had much more drive for me out of the turns and was easier for me to turn. I thought that the longer fin may stiffen up the board but that wasn't the case. I made a short video to show the new fin setup.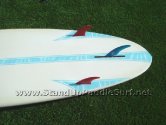 6″ Cutaway for the middle fin and 4.5″ sides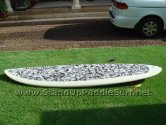 Side of Blair SUP 9′8″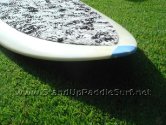 Nice full nose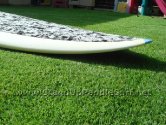 Blair SUP has lots of nose rocker for steep drops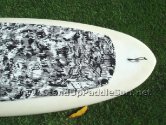 Joe prefers rounded pintails


(click thumbnail to launch video)
Related posts