February 12th, 2009 by clarise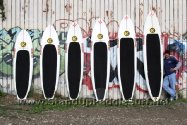 Can you believe this is a new quiver…for one person? This was sent to us from Ted Rutherford and Todd Bradley over at C4 Waterman:

Leo's new order is done. A buddy of his came down to pick them up, here are some photos of the batch before they went north. Below are the boards arrayed according to size; all but one are based on Dave's Battail, the other is the new Parmenter Bombora Chaser: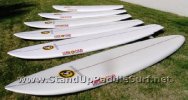 Top to Bottom: 8′ Battail; 8′6″ Battail;
9′ Battail; 9′6″ Battail; 10′ Battail; 10′6″ Bombora Chaser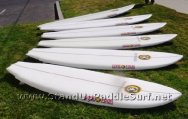 These boards were made in near record time. Production came through with some very nice light foam that was very consistent and white.
The Battail sizes range:
1. 8′x27″x3.75″
2. 8′6″x26.5″x3.5″
3. 9′x25″x3.75″
4. 9′6″x26.5″x3.5″
5. 10′x27″x3.75″
6. Bombora: 10′6″x27″x4″ (-4″x-1″x+.15″ from original, due to Leo's light displacement)
The quality of glassing is superb,
• All boards but the two longest were to have glass-on Simon Anderson side fins: the 9′6″ got boxes, and the 10′ bat got glassons
• All but the 9′ were to have 8″ center Bahne box. The 9′6″ got a 10″ box call.
Overall these boards are outstanding, and one of the best batches yet; they are light, strong and have a near flawless hard-bead edge in the tails.
I would be happy to have any one of these Beachboy boards.
- Ted Rutherford
Related posts