February 3rd, 2009 by clarise

Just last week, Todd Bradley of C4 Waterman sent a bunch of pictures showing Dave Parmenter's latest big wave board: the 10′10″ "Bombora Chaser". Dave gave us some background and specifications of this new SUP board. Take a closer look at this latest offering from C4 Waterman and see it first on this page.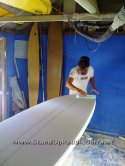 Dave Parmenter shaping the nose of C4 Bombora

A bombora is an outer reef, a far offshore cloud-break, on to which only the biggest swells rear up and detonate. To seasoned surfers, these remote mysto waves offer the allure of challenge and freedom. This is the frontier, far from the teeming shore break scented with bubblegum and Roxy Girl perfume.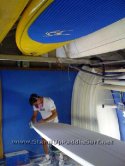 Dave Parmenter shaping the tail

The Bombora Chaser is a gun for these offshore frontiers, and, as the saying goes for firearms, 'you may never want it but if you should ever want it you will want it very badly.' At 10′10″, this big-wave stand-up surfboard is carefully sized to allow the experienced SUP surfer to track and attack the winter beasts, without being so big and unwieldy that it locks up in a fast-rushing and wind-blown outer reef bomb.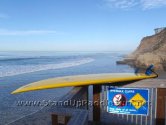 C4 Bombora rocker outline

With its time-tested North Shore outline curve and curvy bottom rocker, the C4 Waterman Bombora Chaser lets you seek the power—-not run from it. And for surfers looking for looser, tighter turns in their small wave paddle surfing, this model also does double-duty as a splendid high-performance SUP short board.

C4 Bombora pulled in nose

Specifications:
10′10″ C4 Waterman Bombora Chaser
Nose: 15.35″ Widepoint: 28.0″ Tail: 16.0″
Max thickness: 3.85″
Fin Array: 2 X 1, convertible to single, 2-plus-1, or tri-fin.
In limited release through the C4 Waterman Skunkworks shop, constructed of hand-shaped EPS or polyurethane and glassed, respectively, with the finest epoxy and polyester resins. Custom colors available on demand via advance ordering.

To inquire or purchase C4 Bombora Chaser go to www.c4waterman.com
Related posts