February 3rd, 2009 by clarise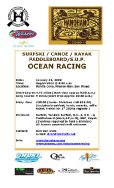 Today, thanks to the generous efforts of the members of Hanohano Outrigger Canoe Club (HOCC), over 400 paddlers took to the water in Mission Bay, San Diego. Our participants ranged in age from 8 yrs. to 80 yrs old including a number of very inspirational Challenged Athletes representing the Challenged Athlete Foundation (CAF), Olympic Athletes and World Class Athletes from various other sports. 280 of those raced the 4.8 mile short course on Paddleboards, Stand-up Paddleboards(SUP), Surfski's, OC-1's and kayaks accompanied by a pristine summerlike day on the bay. While these racers recovered on the beach, with a great meal provided by Wahoo's, 120 Surfskiers and OC-1 & 2 paddlers headed out the channel for the 9 mile open ocean long course.
Once again Danny Ching ruled the day by winning the SUP unlimited division on the short course and winning the OC-1 division on the long course. Patrick Dolan posted the fastest time of the day in the Long Course Surfski division. Other Standouts on the Short Course were Dan Man our unltd. Paddleboard overall winner, Jay Scheckman (14' Paddleboard) and Dan Van Dyck (Stock Paddleboard) , Heather Fuhr (Women's Paddleboard),Vicki Mills (Women's SUP), Ernie Johnson (SUP Stock), Sean Barlow and Sydney Bohlman (under 14yr Surfski), Ryan Stock and Katarina LaJeunesse (under 19 yr Surfski) overall winners. Cory Fultz, Cora Wolfe and Ikaika Pidot won their age groups in OC-1 Short Course and Maggie Hogan (Surfski Women ) and Julie wolfe (OC- 1 Women) dominated their divisions on the Long Course. All in all there was great competition throughout the day, but in the end it's all about sharing a day on the water with your "Ohana".
Division Winners Awards were provided by Loyal Sponsors, Maui Jim Sunglasses, Nixon and Peet's Coffee while other greatly needed support was provided by Quickblade, Huki Outrigger, Paddlesurf Warehouse, Keli's Outrigger, Kalaoa Paddles, Paddleme.com and Caseman. Lunch was provided by Wahoo's and morning coffee provided by Peet's LaJolla. There is no way to have an event like this without the support of these Sponsors. Remember to thank them next time you see them on the beach.
Hanohano Outrigger Canoe Club would like to thank everyone for their "Aloha". The vibe on the beach is always positive and welcoming. This year we had a huge number of first time racers and I hope that their experience was as positive as mine.
Thank You to all the volunteers from HOCC and to the following for their support: Wahoo's, Maui Jim Sunglasses, Nixon, Quickblade, Huki Outrigger, Paddlesurf Warehouse, Peet's Coffee LaJolla, Kalaoa Paddles, Keli's Outrigger, Paddleme.com, Caseman, Dakine, Kialoa, Hinano, The Douser, Hansen's Surfshop, Rusty Del Mar, Gray Whale Trading Co., Trident Surfboards, John Wayne Foundation, Pipe's Café and Better Surf than Sorry.
SUP Top 3 Results:
Short Course
*SUP 12'-6" under (Maui Jim)
1. Ernie Johnson
2. Odie Sumi
3. Robert Howsen
*SUP 12'-6" over (Maui Jim)
1. Danny Ching
2. Rob Rojas
3. Thomas Shahanian
*SUP women (Maui Jim)
1. Vicki Mills
2. Amanda Harris
3. Susan Kendall
Long Course
Waterman (SUP/OC-1)
1. Danny Ching
2. Vicki Mills
3.

Click here to download the top 3 results for all divisions
Click here to download the race recap in PDF
Here's a video of KUSI news piece about the Hanohano Paddlesports race on January 31, 2009 in San Diego.


(click thumbnail to launch video)
Related posts