January 28th, 2009 by clarise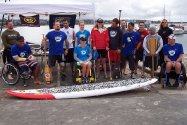 C4 Waterman ambassador Ryan Levinson joined forces with paddleboard retailer Aqua Adventures and members of the San Diego Outrigger Canoe Club to host an inspirational paddleboarding and outrigger canoe clinic for disabled athletes. The event was held in support of the Challenged Athletes Foundation and CAF's "Operation Rebound" program. Fifteen challenged athletes, veterans, troops, and first responders enjoyed paddling an armada of C4 Holo Holos and Classics in Mission Bay, San Diego.




During a break in the action Levinson remarked, "Paddleboards offer incredible freedom on the water for everyone, disabled or not. It feels good to welcome people into the paddleboarding family no matter what level of physical ability they have."

Cardiff local, and WSA 2008 West Coast Champion surfer, Amy Bronn shows off her new skills

With some paddleboard races now including challenged athlete divisions, and with groups like the Challenged Athletes Foundation embracing our sport, people with disabilities have an increasing number of opportunities to share in the stoke. The mission of the Challenged Athletes Foundation is to "…provide opportunities and support to people with physical disabilities so they can pursue active lifestyles through physical fitness and competitive athletics." CAF is a 501C3 non profit with over a decade of service. For more information please visit www.challengedathletes.org

Operation Rebound provides opportunities like this for soldiers and first responders who became 'disabled' in the line of duty

Operation Rebound is an outstanding CAF program that provides "…sports opportunities and support to our troops and veterans of any branch of service and first responders who have suffered permanent physical injuries in the line of duty." For more information please visit www.operationrebound.org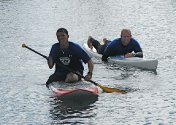 Jacques paddles faster with no legs and one arm than many people do with both their arms intact.

Ryan Levinson, a C4 ambassador, is a lifelong surfer who began paddleboarding after many years successfully competing in top-level triathlons. Ryan has a form of Muscular Dystrophy called FSHMD. It is a degenerative progressive muscle wasting disorder that has no known treatment or cure. Despite this, Ryan spends a huge amount of time in the water where he excels in a variety of watersports. For more information please visit www.ryanlevinson.com.

Group photo above: Participants gather for a day of paddling thanks to the Challenged Athletes Foundation and Operation Rebound
Related posts