January 28th, 2009 by evan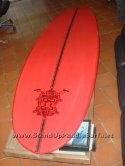 This is part of the series of video clips I took from my Starboard HQ visit in Thailand. On the video is Svein Rasmussen, Starboard CEO, showing the new 8'5" x 30 board, which he said gives the rider a different perception of SUP surfing. He said that when he tried it, it gave him a good and easy surf experience. It can take on a 160 lbs. rider and will still have that ease and glide that you could get from a 10'5", 11'2 or even a 12'6".
I took this board for a short spin around the lake and it was pretty stable and handled my weight with no problem. It's too bad there weren't any waves around to give it a real test.
Svein said that it has the balance that you need because of its width (30" wide) and it gives you feeling of being on a narrow board as you get down the wave. It also has all the 'bells and whistles' like a carry handle, double leash plugs, a full single concave through the whole bottom and that wide tail. What is notably different about this board, is the quad fin system with M7 fins in front and M5 fins at the back. This board has more options for surfers with a quick learning curve and want to get to the next level of SUP surfing. Watch the clip and see more of Starboard's 8′5″ x 30″ SUP board.


(click thumbnail to launch video)
Related posts