April 18th, 2009 by evan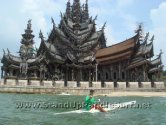 I took this video and pictures last year (October 2008) when I went to the Starboard headquarters for a visit.


(click thumbnail to launch video)
 
The first day that we were in Pattaya, Thailand, there was no wind and the water very glassy. The water was super warm, almost bath tub-water warm. The water was brownish but actually seemed fairly clean. I didn't get sick so it was probably ok.  Pattaya is a resort area and had a lot of hotels on the beach. I was surprised because there were a ton of Russian people there and signs were also in Russian.

The resort in Pattaya Beach, Thailand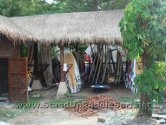 Starboard Development center at Naklua Beach with approximately 40 different proto types and demo boards
 
This restaurant was 50 yards from the development center. It was a family business with 3 generations of family working there.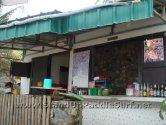 Restaurant near the Starboard development Center

80 something year old grandpa with Oakley hat
 
I just tagged along with Svein Rasmussen, the owner of Starboard and his crew of super cool and friendly people. We stayed at the development center at the Naklua beach which was right on the water.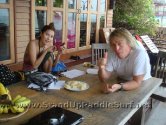 With Michelle Waagaard, former MTV Thailand VJ and her TV team shooting for a Norwegian television cable station exclusively featuring extreme sports
 
The second day, there was a little wind maybe 10-15 mph and people were either windsurfing or kite surfing. I decided to do a downwind run that day with Svein Rasmussen, Starboard owner and Eric Berglihn of SB Norway sales and marketing. Svein was going to do it on a windsurfer, a Starboard Serenity 15'x2.5', while Eric went on a 12'6" Starboard stand up and I was on a proto type racer.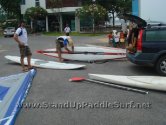 The boards that we took for downwinder
 
I thought the wind was coming from up the coast but it actually was coming from the ocean. About a mile upwind was a point and since the wind was coming from the ocean, on the other side of the point it was also blowing down the coast. We didn't realize that until we reached the launch point but we decided to do it anyway.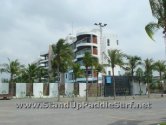 We launched from the Ananya Resort for our downwinder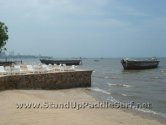 The "rice boats" which are used to transport rice by the Mom Aroi restaurant
 
When we did this downwinder, we started way up the Wong Amat beach, and ended up paddling head on into the wind. We got dead tired. I thought it would be super fast and we would finish in an hour but it took us about 2 ½ hours to finish this run.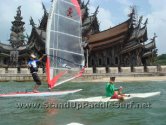 Me and Svein – behind us is The Sanctuary of Truth at Naklua, Banglamung Chonburi,Thailand
 
While on the run, I saw this huge and very interesting temple/castle-like wooden structure, which turned out to be The Sanctuary of Truth. It was an amazing sight to see. It was built according to ancient Thai ingenuity with wooden carved sculptures covering every part of it. There was also a dolphin pool behind it where they held a dolphin training show.
That was a great way to end a great trip. I was sad to leave but had an incredible time.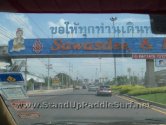 Signs in Thai, on my way to the airport
Related posts