June 29th, 2016 by davi
Connor Baxter secures Victory at Stop 2 of the 2016 World Series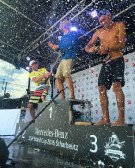 The 2016 SUP World Cup in Scharbeutz Germany was a huge event. There was a huge crowd on the beach and a stacked field of competitors. After five weekends of racing in Europe, it was finally coming to an end. This was my Sixth and Final Event in Europe for the summer.

This was also the second stop of the World Series and I knew I had to get some good results if I wanted the overall at the end of the year. I was fired up and ready to go!
The event kicked off with the sprints and on that day it was rainy and very stormy. The whole event got pushed back later in the day, because of thunder and lightning, but that didn't stop me from bringing my A game. As always the first heat is a nice warm up and I made it through fairly easy. In the next round though, I already started to feel the level go up and everyone was chomping at the bit to get through – which made me have to work just a bit harder – but not giving it 100% yet. In the semi's it was stacked and I knew everything had to run perfect – otherwise one little mistake would cost me. When the horn blew, I sprinted down the beach into the water and hammered to the first buoy. I had clean water which was super nice and was able to stay in front and come out of it in first place.
There was a short break, but sure enough we all were ready for a final battle. I knew Casper was going to be on it, so I lined up right next to him and was just focusing on the first buoy. The horn blew and I ran as fast as possible and threw my board down a bit too early but still was in the race. I turned the first buoy in third and knew I had to sprint hard to catch up to Casper and Jake.
I caught a small bump, and it brought me next to them and I got the inside line and shot out in second. I still had a big gap to close between Casper, so I put the hammer down and blocked out the pain. I turned the final buoy and got straight on a bump, but Casper was already on a swell to the beach which landed me second in the sprints.
It wasn't over yet with the long distance the next day. I had a huge meal and went straight to bed and got a good night of sleep for the final race day.
The sun came out on Sunday and the crowds filled up the beach for the long distance and I was ready to race. It was a 6 lap course race with one super lap that changed everything up. We all lined up for the start and boom – we were off for the 10 kilometer race.
At first I stayed in the back and conserved energy for the first few laps. The laps were short with a lot of turns which made it very exciting for us and everyone on the beach. It wasn't until the fourth lap where things got interesting when Michael, Jake and Arthur dropped back and took their super lap.
I quickly noticed and sprinted to the next buoy hoping that they couldn't get too far in front. I had them in my scope and didn't let up on the throttle. As I got closer to the super lap turn there was a big gap in front, so I quickly turned and knew I had some hard work ahead of me. I sprinted as hard as possible and was able the catch up to them before the second buoy. We still had two laps to go and I was definitely feeling it. I tried to conserve energy, but still keep the pressure on everyone.
As we got closer to the last turn everyone started to sprint hard and it was game time. I put my head down and Michael and I turned the last buoy together. We had a hard upwind sprint to the beach where he just barely edged me out. This put me in second for the distance but landed me First Overall for the Event and a great way to end my Europe trip.
I want to thank my sponsors for all their support – Starboard, Dakine, Maui Jim Sunglasses, Futures Fins, Hammer Nutrition, GoPro, Garmin, Waterman's Sunscreen, OnIt Pro and Hi-Tech Sports.
Also a big Mahalo to all the event organizers and all the volunteers. This was a great event.
Aloha,
Connor Baxter
You can stay in touch with Connor:
Join his Facebook page https://www.facebook.com/connorbaxterathlete?fref=ts
Following him on Instagram http://instagram.com/conbax
Twitter https://twitter.com/ConBax
Subscribing to his blog http://blog.connorbaxter.com
YouTube channel http://www.youtube.com/user/baxconnor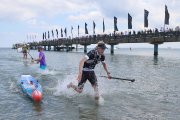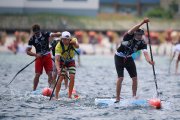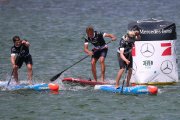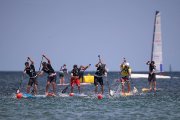 Related posts