June 27th, 2016 by evan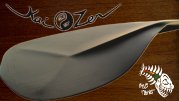 I recently had the chance to try out the Kai Zen Paddle with the 98″ wide blade on a SUP surfing session. The Kai Zen has a super solid catch and it really grips the water, which means you get a lot more paddle power.

I'm not used to the amount of grip the Kai Zen paddle has on the water. In fact, I pulled myself off the board a few times during the session.


(click thumbnail to launch video)
Related posts