February 9th, 2009 by evan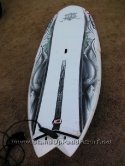 I filmed 2 separate videos with Ekolu Kalama showing me his Starboard 9'0"x30" Superfish SUP board. The first video is a short one shot in the parking area of Sunset Beach. He rode this board as a quad that session. Ekolu's been riding the 9'0" Starboard Superfish especially when he's out in the water catching waves be it Teahupoo or Pipeline. Watch this short clip as Ekolu gets ready for a session at Sunset Beach, Hawaii.



(click thumbnail to launch video)
Ekolu Kalama and his Starboard 9′0″ Superfish SUP board
Here's the other video I took of Ekolu with his Starboard 9'0"x30" Superfish. I shot this one in his friend's yard. Ekolu describes the 9′0″ Superfish as stable and maneuverable for a short board, allowing for easy turns. Even with the full nose of this board, it did not give him trouble either when he tried it at Pipeline. He uses the 9′0″ when he wants to catch waves but for the other things he loves doing like fishing, paddling in flat water, downwinders, he still goes for bigger boards like the 11'2" or the 12'6".
Check out this video and hear more from Ekolu.


(click thumbnail to launch video)
Related posts