January 18th, 2016 by evan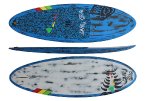 I wanted to try out the Blue Planet All Good 8′8″x32″x4″ board since I'm really used to riding the Starboard 8′10″ Wide Point. I really love this size. It's short enough to surf well and still has decent paddle power. Both boards fit easily in my van. The Blue Planet All Good has almost 20 liters less volume than the Starboard and that makes a difference for riders over 215 lbs. Anyone under 190 lbs can ride almost anything but heavier riders have less options and need to be more skilled to ride a board under 9′.

I also shot video of other surfers, bodyboarder, surfing canoe and SUPers. That keeps it interesting. All video was shot with a GoPro Session using the Menehune Mount.
For more info on the Menehune Mount, please visit: http://www.Menehunes.co/


(click thumbnail to launch video)
Related posts