May 31st, 2017 by evan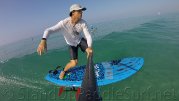 Here is part 2 of our SUP Hydrofoiling episode where Robert and I continue our discussion about the different aspects of this new sport. For this part we talk more about getting started, safety, equipment, the skill level required, and more.

SUP foiling or hydrofoiling is definitely an exciting new sport. But there are some things you need to consider before trying it out, specially the first time. We talk about all this and more in the video.


(click thumbnail to launch video)
This show is presented by Evan from StandUpPaddleSurf.net and Robert from Blue Planet Surf Hawaii.
Related posts