April 25th, 2016 by evan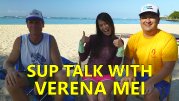 Welcome to another episode of Board Meeting. In this episode, Robert and I have a special guest, racecar driver, model, and actress Verena Mei.
Verena recently moved back to Hawaii and has taken up stand up paddle boarding. She shares her experiences and some of the challenges she encountered while learning how to stand up paddle.



(click thumbnail to launch video)
You can check out Blue Planet's "How to Stand Up Paddle with Verena Mei" videos where Robert coaches Verena on the basics of SUP:
https://www.youtube.com/playlist?list=PL0SxFTHHwMFVaypBI5d_OjAVRD0B09-Lb
This show is presented by Evan from StandUpPaddleSurf.net and Robert from Blue Planet Surf Hawaii.
Related posts